Cutlass Sacrilege!
So, I am a long time EBMM fan; the longest I've owned a guitar is my EBMM EVH (which kicked off my EBMM love). Hoever, time passes and I no longer play much electric – I spend my time on steel-string and, increasingly, nylon. So I decided I just needed ONE electric to rule them all. IMHO the HSS Cutlass is it; a fabulously made, Swiss-army knife of a guitar. I bought a coral one last year only to have the RS series arrive shortly after: I had to have one of those.
Also, I have a "thing" for seafoam green after seeing a brand new batch of Charvel Spectrums arrive in Rose Morris in Denmark Street, London, back in the 80s – I had never seen anything so beautiful.
So, given that this is to be my sole electric, I decided to go crazy. As I love both coral and seafoam I swapped the bodies, got Rich Rendall in the UK to then do a seafoam over coral relic job. I also put an Axis HB in the bridge as that's the best bridge sound I've ever heard. Thanks to Knuckleheads for help with wiring it up (on another thread).
So, how did it work out? Well, I love it! I know that the majority of people viewing will think me crazy, and I've certainly destroyed any resale value, but this isn't getting sold. It's a veritable do-it-all modern supers**at that sounds great, feels great, and looks just the way I want it to. What's not to love? I thought you guys might like to see it, given this is the place for all sorts of EBMM madness, although I don't expect anyone else to love it – although anyone who doesn't think that RS neck is amazing is crazy.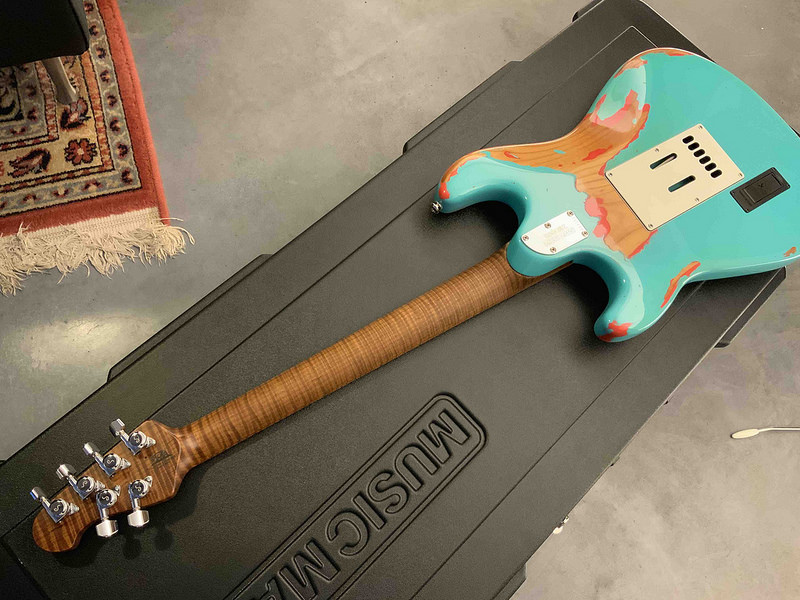 So, my other electrics are on the block. TBH, I think my EVH has just a hair more agression and definition (it's a touch brighter…and decades old) but that's maple over basswood. The Axis HB in the Cutlass is a bit more midrangy but gets very close. And I have those lovely single coil sounds. Bliss.
Source: http://forums.ernieball.com