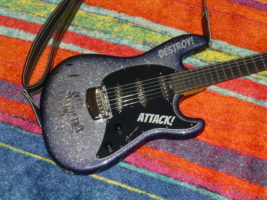 Cutlass sacrilege part II. 🙂
People liked the recent relic transformation of the other Cutlass the other day, so now I'm really putting the forumites to the test. I added a robot and some sparkle stickers to my Cutlass. I live in New Mexico, so we have to stay friendly to all the aliens and flying saucers so they don't steal all the children and livestock. That's just my theory.
I also changed all the screws to black and swapped out knobs and added a silver pickup selector. Silver pickup covers too.
Source: http://forums.ernieball.com