First post – EBMM Valentine content
Hi everyone,
Long time lurker here. I've been a member since last June (already?! :eek:) but never posted or introduced myself.
I've been an EBMM convert since… well last June, when I got my first EBMM :D, a James Valentine sig:
Peep that abolutely ridiculous neck: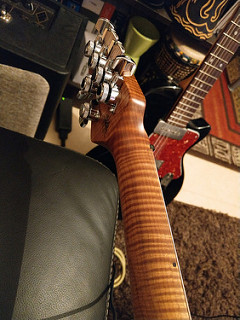 Finish is magnificent, neck is fantastic, setup out of the box was spectacular, a myriad of tones (I'm not using superlatives, these are accurate adjectives). Well I'm still impressed 9 months later.
I bought it to improve my playing (no, no I'm not lying :D) and it actually worked. I decided to start fingerstyle and use it solely for this (although it can do pretty much anything). I have been working an hour a day (at least) with it since it got home, and I've made some significant progress. It makes me want to play everyday!
Now I'm waiting for the EBMM St. Vincent HH Sea Breeze. I wanted a St. V. but the configuration wasn't what I was after. But now, with two humbuckers, a roasted maple neck, an ebony board, and that Sea Breeze finish? I'm in! My wallet is ready but the wait… ooooh the wait.
Thank you EBMM teams (and artists) for designing and building such amazing instruments.
Source: http://forums.ernieball.com