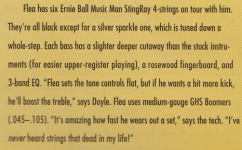 Flea's endorsement
Hi,
I am doing a research on Flea's Music Man basses he was using over the years. He was using them from 1983 until 1996. My question is when the endorsement really started?
Was the success of the album Blood Sugar Sex Magik [1991] the beginning of cooperation?
Also, this piece of Bass Player, Feb '96 article I found very interesting:
I wonder if "slighter deeper cutaway" has been done since the joined EB…
Also, I have never seen this silver sparkle one.
This is the…

​
Read more
Source: http://forums.ernieball.com