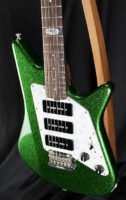 Interesting, I'll say, but it's a combination of guitars
So I saw the post and the corresponding post (not suppose to have comments) about the guitar, so I too a look for myself. This one looks like an AL mash up.
Used Ernie Ball Music Man Albert Lee Ball Family Reserve | Reverb
It looks like an early AL HH BFR neck on an Emerald Green AL MM90's. X your right it's pretty high priced for being a bit beat up. It probably had an maple neck on it originally and the seller wanted the maple neck for the AL HH.
Glenn |B)
Source: http://forums.ernieball.com