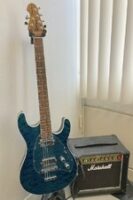 NGD – Morse BFR Tahitian Blue & Questions
I just bought #63/69, brand new. I guess it's been hanging on the wall for five years.
The neck is fantastic, and it sounds lovely…and I haven't even put on new strings yet.
Does anyone know what pickups these are?
Also, what strings did the factory put on this — 9s? 10s? Hybrid?
Source: http://forums.ernieball.com