NYNGD: New Year's New Guitar Days! NYNGD #2017-10
.
Welcome to Day 10 of my annual New Year's New Guitar Days (NYNGD)!
Thanks for the kind words and comments on yesterday's NYNGD #2017-9!
OK, now we're getting into some cool stuff. This is a one-off JP13. Can you tell what makes it a one-off? Yep. A floating Floyd Rose! This was a prototype for a floating Floyd model, which was ultimately built as the JP16. I picked this up at the EBMM booth at this fall's Philly Guitar Show. Derek couldn't recall whether this guitar was ever sent to John Petrucci, or whether he might have played it at the factory, but it did have DiMarzio cliplock strap ends installed, which means it was definitely intended for JP.
This guitar has the current EBMM Floyd Rose, not the Lo Pro Floyd Rose 1000 Series Pro that's was ultimately chosen for the JP16. (I presume JP wanted a Lo Pro a la IBZ, as we know the trem on all the other JPs is designed to be smooth and "out of the way", which the normal EBMM Floyd isn't.
As you know, I am a big Floyd Rose guy, and I especially like floating Floyds, so Derek knew I had no choice but to grab this one. This guy sounds great, the sustain is AOK, the tones are cool, and how cool is it to have my favorite option on a JP13?!?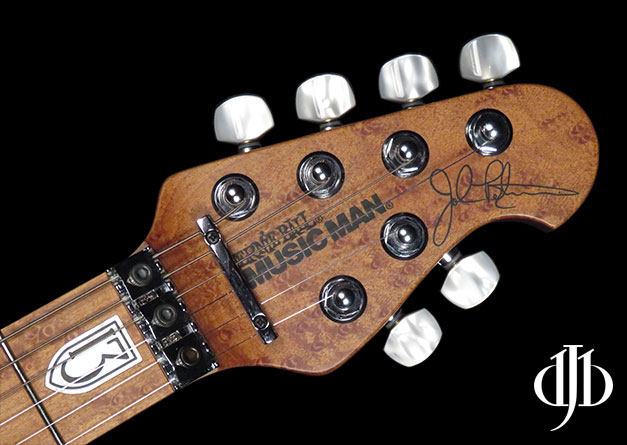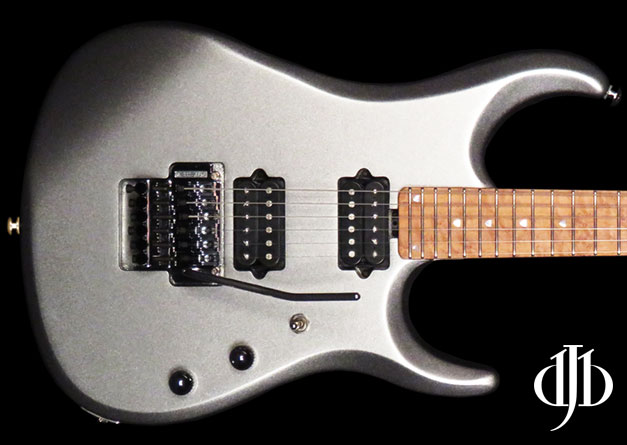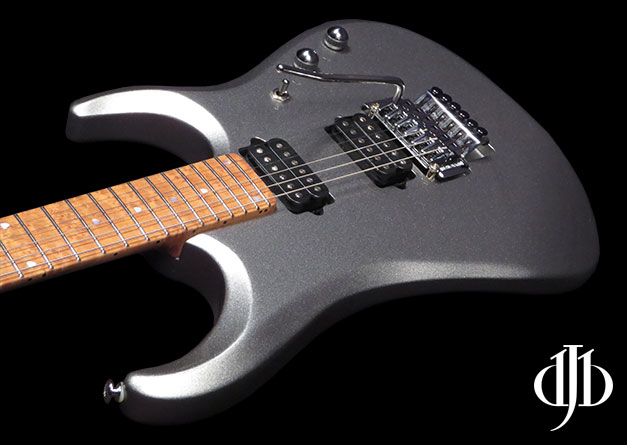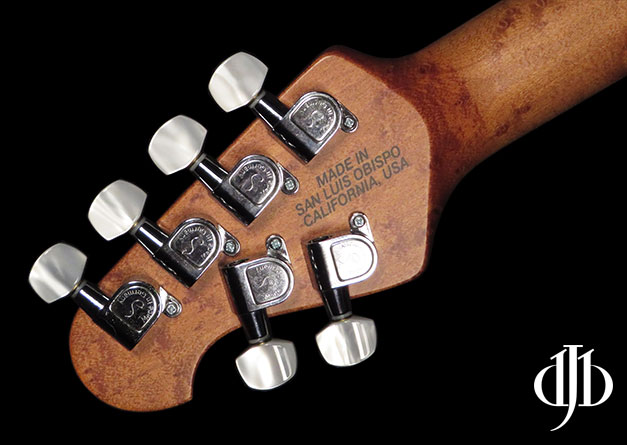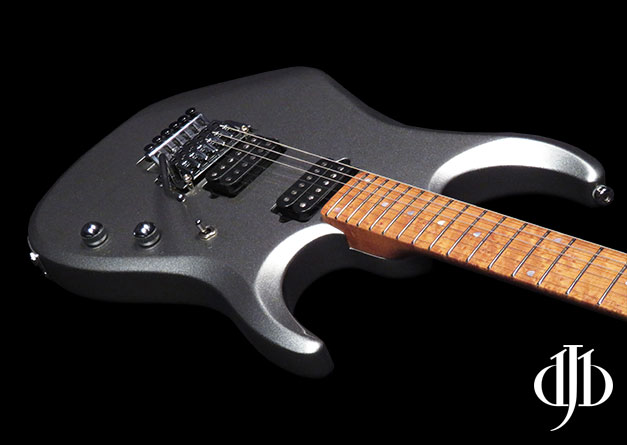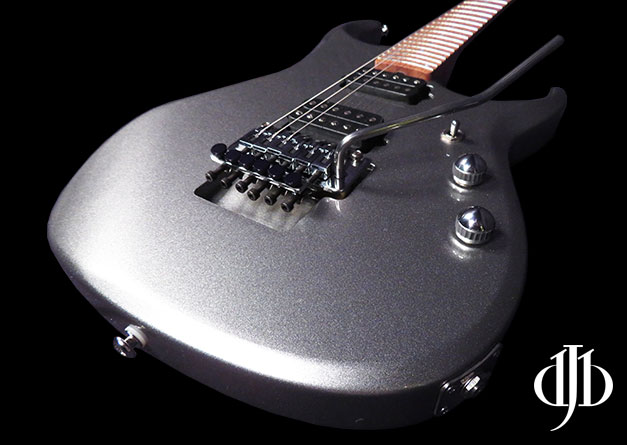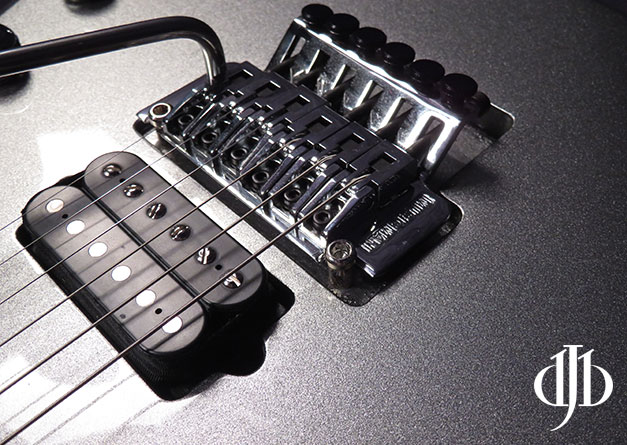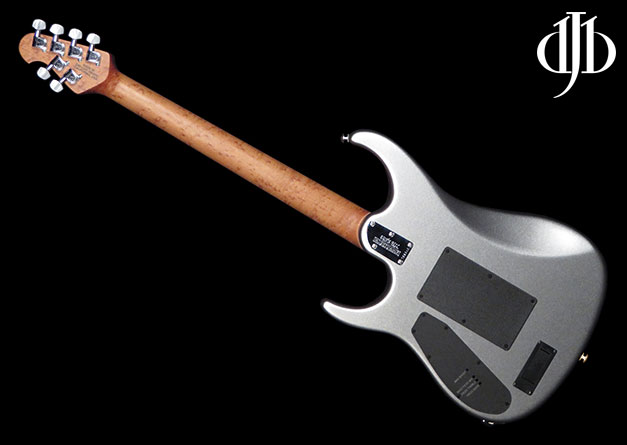 I'll be back tomorrow with another NYNGD: New Year's New Guitar Day!
Thanks for looking everyone!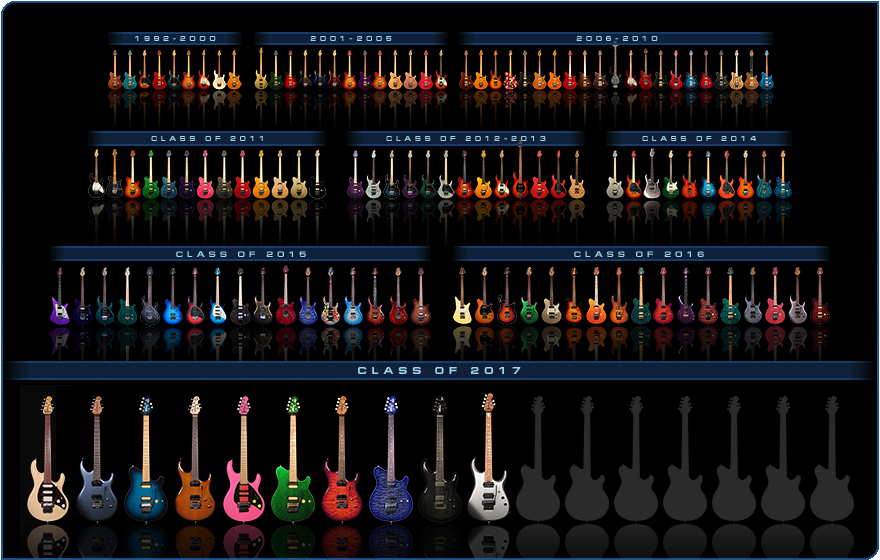 Past Days:
#2017-1 | #2017-2 | #2017-3 | #2017-4 | #2017-5 | #2017-6 | #2017-7 | #2017-8 | #2017-9 | #2017-10
#2016-1 | #2016-2 | #2016-3 | #2016-4 | #2016-5 | #2016-6 | #2016-7 | #2016-8 | #2016-9 | #2016-10 | #2016-11 | #2016-12 | #2016-13 | #2016-14 |
#2016-1 | #2016-2 | #2016-3 | #2016-4 | #2016-5 | #2016-6 | #2016-7 | #2016-8 | #2016-9 | #2016-10 | #2016-11 | #2016-15
#2015-1 | #2015-2 | #2015-3 | #2015-4 | #2015-5 | #2015-6 | #2015-7 | #2015-8 | #2015-9 | #2015-10 | #2015-11 | #2015-12 | #2015-13 | #2015-14 |
#2015-1 | #2015-2 | #2015-3 | #2015-4 | #2015-5 | #2015-6 | #2015-7 | #2015-8 | #2015-9 | #2015-10 | #2015-11 | #2015-15 | #2015-16 | #2015-17
#2014-1 | #2014-2 | #2014-3 | #2014-4 | #2014-5 | #2014-6 | #2014-7 | #2014-8 | #2014-9 | #2014-10
#2013-1 | #2013-2 | #2013-3 | #2013-4 | #2013-5 | #2013-6
#2012-1 | #2012-2 | #2012-3 | #2012-4 | #2012-5 | #2012-6 | #2012-7
(The back story in case you're new to my NYNGD: For the past couple of years I've done a fun thing that most of you I think enjoyed, and I thought I would do it again this year. Every year, I am a slacker about keeping my Guitar Gallery up to date… So, as a fun holiday thing, let's launch a guitar in the Guitar Gallery each day leading up to New Years Eve! In the past I've received PM's about my collection and whether I play all of these guitars. 🙂 The same question came up during my NYNGD posts a few years ago and my answer was pretty detailed and well thought-out, so please check it out here!)
(Also, in case anybody gets any funny ideas — these guitars are not at my house. They are all in my very secure and alarmed studio facility. I usually only have two guitars floating around the house…)

Source: http://forums.ernieball.com