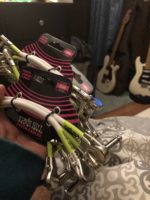 Off Topic: Patch Cables by EB
These cables are exactly what I needed. The Flat/pancake (right angled) are the best. Especially with the side loading pedals and limited precious Real estate on my pedalboard. I am so stoked! Well done EB.
Maybe I should start a thread or post with players using EB patch cables for their pedalboards.
Sent from my iPhone using Tapatalk
Source: http://forums.ernieball.com