Ashdown Announce Interstellar 600 Guy Pratt Signature Model
Designed for Guy Pratt, The Interstellar is a NEW take on a classic. Inspired by Guys use of his ABM-900's. We took the ABM back to the drawing board, focusing on the EQ and Valve Drive as features for Guy, the Interstellar takes the power, reliability and tonal sophistication of the ABM to new levels of cool…
Always an eye catcher, Guy has played bass on countless recordings and graced the stages of some of the most prestigious rock bands around the world. Having used our amps in various guises over his entire professional career and having a bit of down time over the past few years, we started talking about a collaboration of sorts, one intended solely for his personal use. The amp needed to sit well on top of his pair of CL-310 cabs, have an input to power his Taurus Pedal and look as if it was created in the 60's…
With that in mind we needed a name and after a few back and fourths we settled on the inspired name of The Interstellar. The name came from his current band The Saucer Full of Secrets set list… Interstellar Overdrive is a track played by the group featuring the Floyds very own Nick Mason (and Guy) playing very early Floyd songs in detail, live for the first time in over 50 years. We were lucky to see the set at the Roundhouse in London a few years back and the set see's Guy as one of the main frontmen. A role he has never really taken on within the world of music, inspired by the night and finally seeing some of Barrett's music live performed by Guy in such an enigmatic way, a way only Guy could create, helped cement our love for the music as well as Guy himself as an Artist.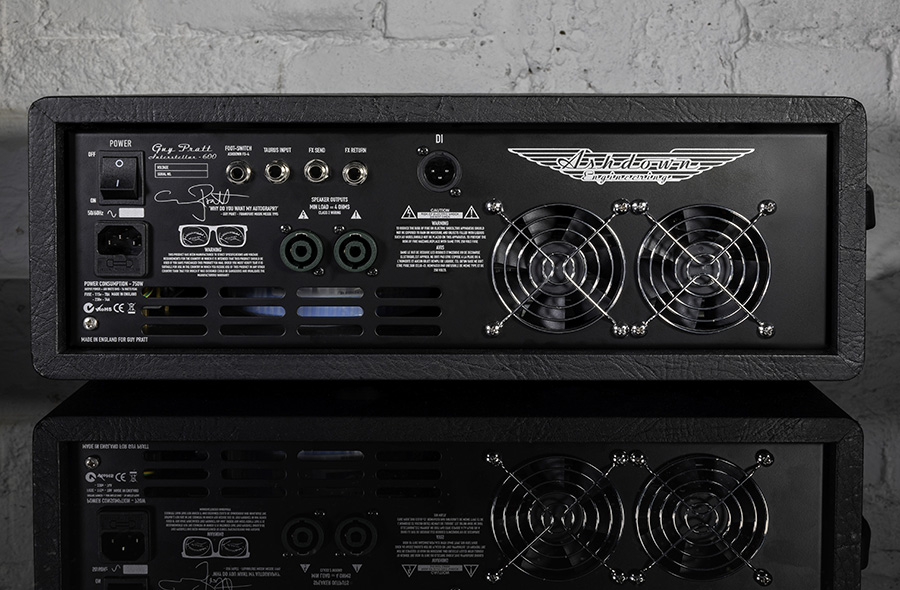 Only ever having built custom finished products for Guy in the past we wanted something original that could be sold to the world as The Interstellar, a 600-watt powerhouse of a bass amp, beautifully finished in a custom encloser and hand made in our UK custom shop. Featuring a 9 band EQ section with the option to dial in the right amount of valve tone. Keeping the features of the ABM-EVO IV the option to footswitch (footswitch supplied separately) the compression and the sub harmonics at fixed values to Guys exacting specifications when required, makes the Interstellar a very versatile head full of features.
Guy had a few words to say on the amp "I can't tell you how proud it makes me to have a signature amp with my Ashdown family, who've been with me every step of the way of my 40 year career. We've been tinkering with bits and pieces for years, and this combines our shared passion for great traditional British amps with everything I know and trust about my ABMs. It's not about bells and whistles, well apart from the dedicated Taurus input, it's about solid, shapeable, deliverable power. Along with my 3x10s this is my ultimate dream rig. Turn on and trip out!"
The head is designed to be used in its custom wood sleeve however the head can be rack mounted via an additional rack kit sold separately.
Launching on the 14th of October and available to pre order from then… All of our UK built amps are built to order in the UK.
The rest of 2021 will see a range of exciting product releases from Ashdown offering high-quality bass guitars, amplifiers, bass cabinets, pedals and so much more – as well as a plan for what will be a monumental year in 2022, with Ashdown celebrating its 25th anniversary. For more information, please visit ashdownmusic.com.

The post Ashdown Announce Interstellar 600 Guy Pratt Signature Model appeared first on Music Instrument News.
Source: musicinstrumentnews.co.uk