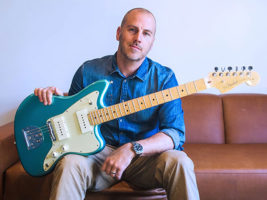 Changes at the top for Fender
Fender's CEO Andy Mooney has announced a new 'executive structure' within the product division for two of the company's key employees, Richard McDonald and Justin Norvell.
McDonald, who joined the company in 1993 and most recently held the role as Executive Vice President Fender Brand, will assume a newly created leadership position of Chief Product Strategist. In his new role, Fender says: 'He will provide counsel and guidance for the long-term product vision for Fender's core business.'
Justin Norvell will be stepping into the role previously held by McDonald, and will now report directly to CEO Andy Mooney as Senior Vice President, Fender Products. Norvell, whose 20-year tenure with FMIC began in 1996: 'Will allow for a seamless transition as he oversees all aspects of the Fender Brand, including: electric guitars and basses, acoustic guitars, amplifiers, accessories, lifestyle, and licensing.'
'We are very pleased to welcome Richard and Justin in their new executive management roles,' said Andy Mooney CEO Fender Musical Instruments Corp. 'Both their experience and commitment has been and will remain invaluable as we continue to deliver new innovative products and categories the Fender brand is known for.'
Info: www.fender.com
The post Changes at the top for Fender appeared first on Music Instrument News.
Source: musicinstrumentnews.co.uk