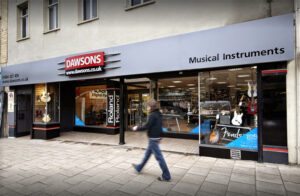 Dawsons Acquired by Vista Musical Instruments
In a statement, Vista Musical Instruments said the move marks a significant milestone for its business as it will enable it to bring its expertise and resources in music retail to the UK.
The company said it is committed to preserving the legacy of Dawsons, which was established in 1898, but will also inject "fresh energy and innovation" into the brand through a relaunch and new omnichannel experience. Products offered will include an extensive selection of music equipment, accessories, lifestyle products and merchandise.
Vista Musical Instruments is owned by the parent company of NME Networks, Caldecott Music Group.
Meng Ru Kuok, Vista Musical Instruments chief executive, said: "As one of the oldest music retailers in the UK, Dawsons holds a special place in the hearts of musicians and fans alike around the country. Countless musicians have found their first instruments or made their initial foray into the world of music through Dawsons.
"With such a rich heritage, and our ability as a group to rebuild this legacy name and supply an extensive, high-quality product range, the business aligns perfectly with our family of brands and vision for Vista Musical Instruments and we are proud to leverage our extensive retail experience as stewards of the brand's future."
Vista Musical Instruments also operates the MONO, Harmony, Teisco, Heritage Guitars and Swee Lee brands.
www.vistamusic.com
The post Dawsons Acquired by Vista Musical Instruments appeared first on Music Instrument News.
Source: musicinstrumentnews.co.uk