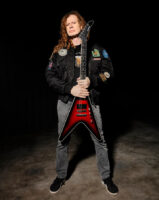 Epiphone Announces New Dave Mustaine Flying V Custom & Flying V Prophecy Limited Edition
2023 marks the 150th anniversary of Epiphone, a leading innovator in instrument design. By leveraging its iconic past and leaning into the future, Epiphone has now set the stage for the next era of sound for present and future generations across the globe. Epiphone is proud to announce its first-ever partnership with Dave Mustaine, the legendary guitarist, vocalist, songwriter, and founder of the multi-platinum selling and GRAMMY® Award-winning band, Megadeth. Epiphone and Dave have unveiled the Flying V Custom and a limited-edition Flying V Prophecy which are now available worldwide at authorised Epiphone dealers, and on www.epiphone.com.
"I have to admit, I knew nothing about the Epiphone Flying V when I was offered my ambassador role with Gibson guitars. I'm happy to say I know a lot more now about Epiphone, the manufacturing, the playability, and the incredible sound that they offer. I am 100% certain the Epiphone signature Dave Mustaine Flying V is a badass guitar! We made the guitar to my exact hand specifications, identical to my Gibson Flying V. My favorite is the red antique model, but we're just getting started. It's mind-boggling to think, 'if I didn't look at the headstock, I couldn't tell this guitar apart from my Gibsons'." –Dave Mustaine of Megadeth
Dave demands excellence from any instrument and the new Epiphone Dave Mustaine Flying V Custom delivers the powerful, heavy sound and exceptional playing performance with every note. The 24.75" scale mahogany neck has a gloriously agile ebony fretboard with 24 medium jumbo frets, an Explorer style headstock with Grover Mini Rotomatic tuners, and a Graph Tech nut. The mahogany Flying V-style body is equipped with a LockTone Tune-O-Matic bridge, string-thru Flying V tailpiece, and Dave's signature Seymour Duncan Thrash Factor pickups that deliver all the high-output mayhem you'd expect from a Mustaine signature axe. The pure metal looks are rounded out with a Black Metallic finish offset with a white binding on the body, neck, and headstock, along with black nickel hardware. A hardshell case is also included.
Epiphone is honored to be working with Dave Mustaine, who formed Megadeth at the dawn of the American thrash metal movement. Renowned worldwide and synonymous with metal guitar, Dave Mustaine founded Megadeth in 1984 and less than a year a later debuted with the release of Killing Is My Business… And Business Is Good! in 1985. Megadeth has gone on to sell more than 50 million albums worldwide, earning many accolades along the way, including a GRAMMY Award for the title track from their album Dystopia, along with 12 additional GRAMMY nominations, as well as five consecutive platinum/multi-platinum albums. Megadeth has headlined many of the biggest stages in the world and the most recent "Crush The World" Canadian tour where they headlined hockey arenas. Also, a New York Times bestselling author and sought after speaker, host, and commentor, Mustaine has remained a standard bearer for metal and heavy guitar rock, combining a musical and technical standard with the punk and rock n' roll ethos and attitude.
As vital as ever, Megadeth debuted at the top of the charts with their new album The Sick, The Dying… And The Dead!. The new album premiered at #1 on the Top Rock & Alternative Albums, #1 on Top Rock Albums, #1 on the Top Hard Rock Albums, andat #3 on the Billboard Top 200 marking the highest charting Megadeth album of all time and the eighth Top Ten album of their career. The Sick, The Dying… And The Dead! released via Ume, features twelve new tracks, and is available on CD, vinyl, and cassette, as well as digitally through all online partners, HERE.
About Epiphone
For 150 years, Epiphone has been a leading innovator in instrument design with models like the Casino, the Texan, and Masterbilt Century Archtop Collection. Epiphone began as the "House of Stathopoulo" family business in Sparta in the 1870s and rose to fame during the jazz age in Manhattan before joining Gibson brands in 1957. Today, Epiphone continues to make history from its headquarters in Nashville, TN. Epiphones have powered classic recordings by Les Paul, The Beatles, and The Rolling Stones along with today's top artists like Peter Frampton, Gary Clark Jr., Tommy Thayer of KISS, and Lzzy Hale. Epiphone offers innovation, history, and a lifetime guarantee. Whether you are learning your first song in your bedroom, or rocking an arena, Epiphone has always been there, for everyone, for every generation, for every stage. For more information, visit: Epiphone.com and follow us on Twitter, Facebook, YouTube, and Instagram.
The post Epiphone Announces New Dave Mustaine Flying V Custom & Flying V Prophecy Limited Edition appeared first on Music Instrument News.
Source: musicinstrumentnews.co.uk