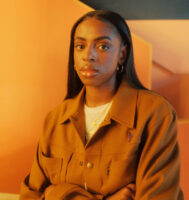 Fender Play Foundation partners with Sony Music Group's Beyond The Instrument initiative
Sony Music Group (SMG) today announced the global expansion of its annual Beyond The Instrument initiative. Now in its third year, the program will include academic activations in the U.S. and U.K. throughout the month of February, providing international resources and exposure to music professionals and creatives and collaborating with community partners to help prepare future music leaders. Since its launch, Beyond The Instrument has donated thousands of dollars' worth of instruments, equipment, software and curriculums as well as provided mentoring and is on target to support nearly 10,000 students over the course of five years. This year, SMG will work with non-profit partners Notes for Notes® and Fender Play Foundation® to bring music education to students through innovative and sustainable programs that put instruments and learning tools directly in the classroom.
On Wednesday, February 1 – ahead of the 65th Annual GRAMMY Awards – Beyond The Instrument will launch in Los Angeles, California at the Boys & Girls Club of Metro Los Angeles – Watts-Willowbrook Clubhouse. Together with Sony Music artists, songwriters and composers, Boys & Girls Clubs youth members will join a discussion with KayCyy, DIXSON, Adam Lukas (Bleeding Fingers Music) and James Everingham (Bleeding Fingers Music), designed to inspire U.S. attendees' personal development and musicalaspirations. In addition, national non-profit organization Notes for Notes® with the support of SMG, will also open its largest recording studio in LA at the clubhouse providing club members with year-round free access to explore, create and record music. With access to guitars, drums, keys/synths, DJ and production gear, as well as headphones and microphones donated by Sony Electronics, the fully equipped digital recording studio for aspiring young artists will work alongside a talented Producer to develop their skills as artists, producers, engineers and film/TV composers.
The program will launch for the first time in London, England on Thursday, February 9, at Harris Academy Greenwich, a school in south east London, prior to the BRIT Awards. Joined by Sony Music artist and triple BRIT Award Nominee Cat Burns, the students will get a chance to perform and then participate in an active discussion about Burns' career – and the evolution from being a BRIT School student and busking on the Southbank, to achieving the biggest debut hit and top single by a female artist in 2022 with Go. The school was selected in partnership with music education charity Restore the Music UK (RTM), who received a Sony Music UK Social Justice Fund grant in 2022. RTM noted that school has an excellent record in developing its music program and also won the RTM 'Battle of the Bands' competition last year. Fender Play Foundation® will provide educational workshops and core music and sound equipment to participating students and teachers thereafter. Established in 2019, the Fender Play Foundation® (FPF) is a 501(c)(3) organization on a mission to equip, educate and inspire the next generation of players through music by providing access to instruments in schools that need it most and has already gifted guitars, basses and ukuleles to over 15,000 students in the United States. This partnership is the Foundation's first in the UK.
"It's a privilege to continue Sony Music Group's Beyond The Instrument program this year and to partner with first-class community partners, artists and songwriters to inspire and enhance music education programs," said Towalame Austin, Executive Vice President, Philanthropy and Social Impact, Sony Music Group. "Developing opportunities to support under resourced communities – now to also include the UK – is part of the Company's overall global giving strategy and I look forward to seeing what these students create in the future and on their paths to becoming incredible music professionals."
"We are so thrilled to be expanding in Los Angeles in partnership with Boys & Girls Clubs of Metro LA," said Phil Gilley, Notes for Notes® Co-founder/CEO. "This studio marks our 26th and first in partnership with a major music company, Sony Music Group, who have proven with their support how dedicated they are to developing the next generation of artists."
"We grateful to our partners at Sony Music Group and Notes for Notes® for the opportunity to expand our music programming," said Patrick Mahoney, CEO of Boys & Girls of Metro Los Angeles. "Access to music is a core focus for BGCMLA and this studio will amplify opportunities for our Club members to explore their creativity and prepare for the future."
"Through the Fender Play Foundation, we've seen firsthand how providing access to instruments and music education can truly transform lives," said Aarash Darroodi, FMIC EVP, General Counsel and President for Fender Play Foundation.  "We're thrilled to join forces with Sony Music Group to further our mission and give even more young people the opportunity to learn and express themselves through music, fostering connection and community around the world."
Since 2021, the Beyond The Instrument program grant aims to accelerate equity and access to cutting-edge music technology education for students in high-need schools, located in historically excluded communities. To date, the program has been active in California, Tennessee, and Florida. The 2022-2023 program is designed to collaborate with first-class community partners, artists, and songwriters to enhance music education programs on a global scale.
About Sony Music Entertainment
At Sony Music Entertainment, we fuel the creative journey. We've played a pioneering role in music history, from the first-ever music label to the invention of the flat disc record. We've nurtured some of music's most iconic artists and produced some of the most influential recordings of all time. Today, we work in more than 60 countries, supporting a diverse roster of international superstars, developing independent artists and visionary creators. From our position at the intersection of music, entertainment, and technology, we bring imagination and expertise to the newest products and platforms, embrace new business models, employ breakthrough tools, and provide powerful insights that help our artists push creative boundaries and reach new audiences. In everything we do, we're committed to artistic integrity, transparency, and entrepreneurship. Sony Music Entertainment is a member of the Sony family of global companies. Learn more about our artists, creators, and labels here.
About Notes for Notes:
Notes for Notes® is a non-profit organization which builds, equips, and staffs after-school recording studios packed with guitars, drums, keys/synths, DJ gear, digital music stations and full recording studios offering youth completely FREE access to explore, create, and record music. Notes for Notes currently has 26 studios in Boys & Girls Clubs and after-school sites in San Francisco, Santa Barbara, Los Angeles, Las Vegas, Austin, St. Paul, Milwaukee, Chicago, Detroit, Memphis, Nashville, Cleveland, DC, and New York City and coming soon to High Point, NC with our first studio in partnership with a public school.  Beyond creating music N4N® also educates about the multitude of careers around the industry and the positive paths the music and most importantly, Freedom of Expression can be the catalyst to. Please visit notesfornotes.org for more information and to see how Notes for Notes is Producing Tomorrow's Musicians
About Boys & Girls Club of Metro LA:
The mission of the Boys and Girls Clubs of Metro Los Angeles (BGCMLA) Our mission is to create a safe space to empower all Club members to learn, explore, achieve, and dream (L.E.A.D)! Committed to sustainable impact, BGCMLA is the result of a partnership unifying Los Angeles' Boys & Girls Clubs that have been serving thousands of youth in the region's most vulnerable neighborhoods since 1960 including Challengers, Venice, Watts/Willowbrook, Bell Gardens Club sites, and in recent years several school sites. BGCMLA offers nationally recognized programs in three core areas to ensure the achievement and empowerment of youth and their families: Academic Success, Good Character and Citizenship and Healthy Lifestyles. For more information, please visit our website at www.bgcmla.org
About Fender Play Foundation®:
Established in 2019, the Fender Play Foundation® (FPF) is a 501(c)(3) organization on a mission to equip, educate and inspire the next generation of players through music. The Fender Play Foundation® places instruments in the hands of youth who aspire to play and reap the powerful benefits of music education, including enhanced cognitive function, improved creativity and confidence, and better mental health and emotional stability and higher test scores and academic achievement. Operating under the belief that music is a universal language that empowers self-expression and community-building everywhere, the Fender Play Foundation® prioritizes its music education partnership with Los Angeles Unified (LAUSD), the 2nd largest school district in the U.S., reaching over 15,000 students. FPF's programs are breaking new ground as sustainable, scalable and innovative models for music education.
About Harris Academy Greenwich
Harris Academy Greenwich is a school in south east London for 11-18 year olds. Its mission is to offer every child, regardless of circumstance, the chance to thrive both personally and academically. A large proportion of pupils at the school come from economically disadvantaged backgrounds, yet they overcome all challenges to surpass national standards in terms of academic achievements and outcomes. Earlier this year, national schools inspectorate Ofsted described Harris Academy Greenwich as an 'outstanding' school; opportunities to participate in music were highlighted in the inspection report.
About Restore the Music UK
Charity Restore the Music UK was founded to address the systemic inequality in the level of music provision in state schools nationwide, specifically those in areas of high socio-economic deprivation.  The RTM Capital Grant Programme offers tailored grants for instruments and equipment in primary and secondary schools with well  above-average Free School Meals and Pupil Premium percentages. Restore the Music funding is both raising the status of music as well as making provision diverse and accessible enabling young people to develop a wider skill set and gain access to a wide range of future opportunities – both of which are vital in the broader pursuit of social cohesion and social mobility.

The post Fender Play Foundation partners with Sony Music Group's Beyond The Instrument initiative appeared first on Music Instrument News.
Source: musicinstrumentnews.co.uk