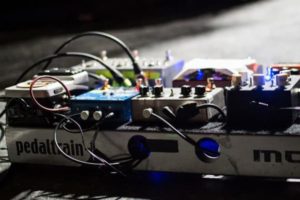 Four of the Best Pedal Power Supplies with Isolated Outputs for Noisy Pedalboards
Before I recommend pedal power supplies, I want to mention one of the most important "issues" you'll need to consider when buying one.
It's simply this:
Isolated power matters a lot. If you have a noisy guitar rig and you're not using isolated power, it's likely that your problem will be resolved with an isolated power source for each stompbox.
Thus, the four power supplies I'll highlight and recommend in this story all provide isolated power.
The Importance of Isolated Power Supplies
When power isn't isolated, you tend to have a lot of noise issues, especially if you have a lot of pedals, which I'd define as anything above three.
As the number of pedals go up and something like a daisy chain (which almost always provides unisolated power) gets longer, noise issues tend to rise as well. This is why I won't be recommending any kind of daisy chain power supply in this writeup.
Or ever.
They're just not reliable sources of power.
In fact, you'd be better off to use a 9V battery on every single pedal, at least from a noise reduction perspective.
Why? Because that's a form of isolated power.
Then again, no one wants to run 9V batteries all the time. The good news is that we can get power supplies where each power source is isolated, thereby saving us from having to deal with the inconvenience of batteries.
Other Issues to Consider
Other than power isolation, there are a few additional factors I've taken into consideration.
1. Price
I'm avoiding the super cheap and (for the most part) the super expensive. In my experience you get value somewhere in the middle, so we'll aim for the best combination of quality and low(ish) retail cost.
2. Number of pedals
Most power supplies can handle between eight and 12 pedals, with varying voltage measurements. Usually you'll have the lion's share of slots taken up by 9V ports, with a couple 18V options thrown in.
3. Size and footprint
While space is a less critical matter, smaller power supplies are often a welcome solution to crowded pedalboards. It's not a deal breaker, but something to keep an eye on if space is an issue.
Now that we've established some shopping criteria, I'll highlight four of the best pedal power supplies that isolate each output and help reduce noise. Make sure to check pricing and used options, as they often dip far below retail since most folks selling used power supplies are trying to unload an entire pedalboard.
They can routinely be had at steep discounts.
As we cover each power supply, I'll address the above concerns and highlight other notable features as well, to provide as much context as possible for the "optimal" purchaser.
Good luck.
1. T-Rex Fuel Tank Junior V2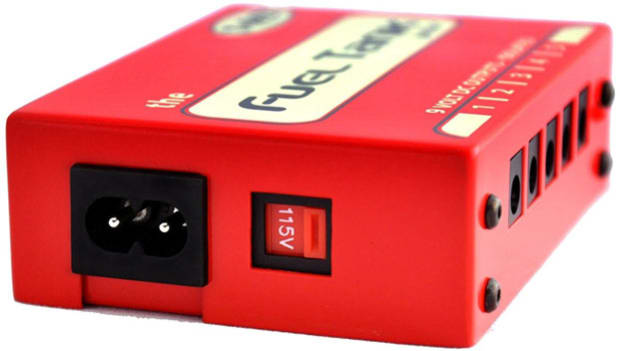 By far, my favorite pedal power supply to recommend is the T-Rex Fuel Tank Junior.
First, it's not terribly expensive (usually under $109).
But moreover, it's just a perfectly small and simple power solution, provided you don't run a lot of pedals. What I've found is that most people don't need to power a lot of pedals at one time, so this is frequently an ideal solution for smaller pedalboards and the "average guitarist."
Each port is isolated and provides five 9V DC outputs with cables included.
2. Walrus Audio Phoenix 15-Out Isolated Clean Power Supply
For larger pedalboards, I'd have a hard time recommending anything aside from the Phoenix by Walrus Audio.
This thing (like most of what Walrus Audio makes) is an absolute beast, giving you isolated power that can handle 9, 12 and 18V power in a total of 15 different pedals. Four 300mA outlets are available and made to handle larger pedals while keeping your signal clean and noise-free. Toroidal transformers assist in this process by providing noise filtering and clean power.
Hovering around $279, it's still cheaper than many high-volume power supplies with a similar stat line.
If you're in a situation where you need to run a lot of pedals at once, have noise problems or plan to expand your board, this is a solid Number 1 draft pick.
3. Accel FX Power Source 8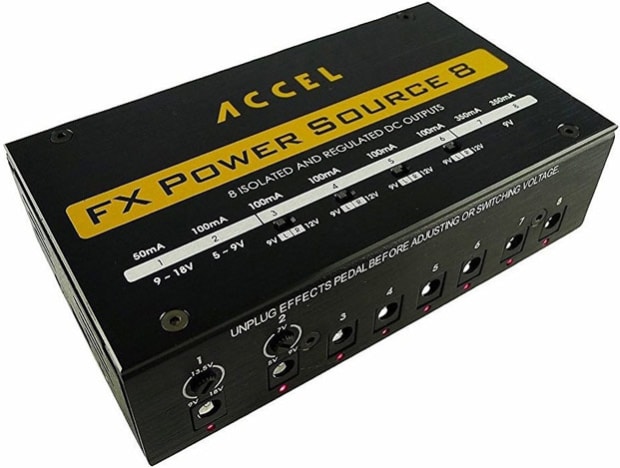 Winner of the "Gotta Stock It" award at the 2016 NAMM Show, this power supply from Accel provides eight outputs that are each completely isolated and regulated.
One feature that I love is that you can switch every single output to 9V. Otherwise, you can set it up to be a mix of 9, 12 and 18V outputs, depending on what your pedalboard looks like.
For the mid-sized, perhaps "likes-to-switch-pedals-out-frequently," pedalboard it's an accommodating fit.
4. Voodoo Lab Pedal Power ISO 5 and Power Supply 2​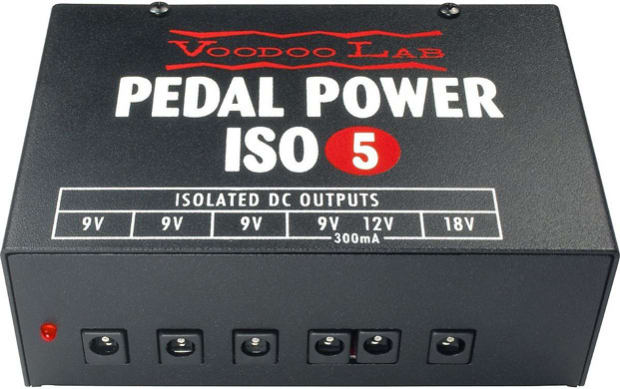 Both the original Voodoo Lab Power Supply 2 and the Power ISO-5 isolate every output, making either box a great solution for noise-plagued boards.
The ISO-5 is smaller and more compact, designed for space saving and a low pedal count.
Voodoo Lab gives you eight outputs on the VL2, all of which can be used for 9V pedals and a DIP switch that allows you to change currents for different pedals.
Again, smaller boards and a small number of pedals are better fits for the ISO-5; however, it is cheaper than the VL2, under $110. Both pedals stem from one of the most popular and long-standing power supply lines in guitar-playing history.
It's hard to go wrong with either one.
Non-Isolated Pedal Power Supplies That Are Worth a Look
As mentioned, you don't necessarily need an isolated power source, especially if you aren't experiencing any noise problems.
Personally, I'd rather have it, just to be on the safe side.
But that doesn't mean there aren't some great power supplies out there that can do the job for quiet boards.
Here's a quick list that I'd recommend:
• T-Rex Engineering Fuel Tank(only 300mA outs are isolated)
• MXR M237 DC Brick
All of these power supplies are excellent and reputable options, especially if you're running higher quality pedals.
They also might be better (and in some cases cheaper) fits if you have an external noise gate that's keeping noise issues at bay.
There's always more than one way to get it done.
What about the cheap-out options?
It's true. There are a lot of really cheap pedal power supplies out there these days. Under $40, and even under $25, are not uncommon price tags.
However, I don't typically recommend them because you still get what you pay for. While some of these power solutions can be decent (the Donner DP-1might be an exception), I tend to avoid recommending them for the following reasons.
1. I've little to no experience with them
2. They're usually not isolated or regulated
3. They wreak of haphazard mass-production.
So sure, it's largely speculative on my part. But I can't, in good conscience, tell you that the $21 power supply is as good as the $160 power supply.
Choose wisely, friends.
Flickr Commons Image via Kyle Gaddo.
Bobby Kittleberger is the founder and editor of Guitar Chalk. You can get in touch with him here or via Twitter.
Source: www.guitarworld.com