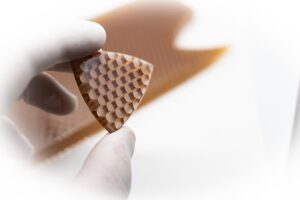 Introducing the Hufschmid-NxComb©
Hufschmid is thrilled to unveil the NxComb©, a truly unique plectrum material meticulously handcrafted by artisan Patrick Hufschmid.
What sets the Hufschmid-NxComb apart from the rest? It all starts with a top-secret core material. Combined with a carefully curated blend of secret ingredients, this material offers great durability and performance. Each Hufschmid-NxComb© is crafted with meticulous care by Patrick Hufschmid himself, guaranteeing the highest quality and consistency.
Now, you might be wondering: What's the buzz about the bees near Montreux? Well, who knows? Maybe there's something magical in the air, but what we do know is that the inspiration behind the Hufschmid-NxComb© extends even to the enchanting bees of Switzerland. Their tireless work ethic and unwavering dedication mirror the spirit of this creation.
One of the key features of the Hufschmid-NxComb© lies in its thickness. By opting for a thicker plectrum, Patrick Hufschmid has ingeniously unlocked a world of possibilities for guitarists. This innovative concept revolutionizes playing efficiency, enhancing strength while reducing effort. Say goodbye to excessive hand movement and hello to increased hand strength. Experience less cramping and tenseness as your playing reaches new heights.
But the benefits don't stop there. The Hufschmid-NxComb© caters to the needs of guitarists facing muscular issues such as osteoarthritis or tendinitis. Its bio-mechanical phenomenon offers a welcome relief, allowing for greater precision, strength, and speed. However, even guitarists without these issues can tap into this innovation, elevating their playing to new dimensions.
Whether you're an adventurous musician seeking new frontiers or a guitarist in search of a game-changing tool, the Hufschmid-NxComb© maybe your answer.
More info click here
The post Introducing the Hufschmid-NxComb© appeared first on Music Instrument News.
Source: musicinstrumentnews.co.uk