JHS Distribute Thalia USA Professional Capos within the UK and Ireland
With three US patents and four prestigious design awards, Thalia Professional Capos combine precision engineering and stunning aesthetics. The full range, which includes the Exotic, Deluxe and Premium Series offers individual customisation to suit the needs of the musician.
Available in three striking finishes, polished chrome, black chrome or 24-karat gold plate, Thalia Professional capos are not only a work of art, they offer musicians the ability to match an exquisite Thalia capo to their instrument's hardware with a host of custom inlays.
The Exotic Series itself features a stunning array of inlays crafted from the finest woods and shells, these include Mother Of Pearl, Blue Abalone, Ebony Inked, Purple or Crimson Paua, Red, Green or Teal Angel Wing, Tennessee Whisky Wing, Hawaiian Koa, Santos Rosewood and Sapele.
All models within the Exotic Series are shipped complete with Thalia's Standard Tension, Universal OctaveTouch Silicone Fretpads specifically designed for 6 string guitars, and a HighTension OctaveTouch Fretpad for use on 12-String Guitars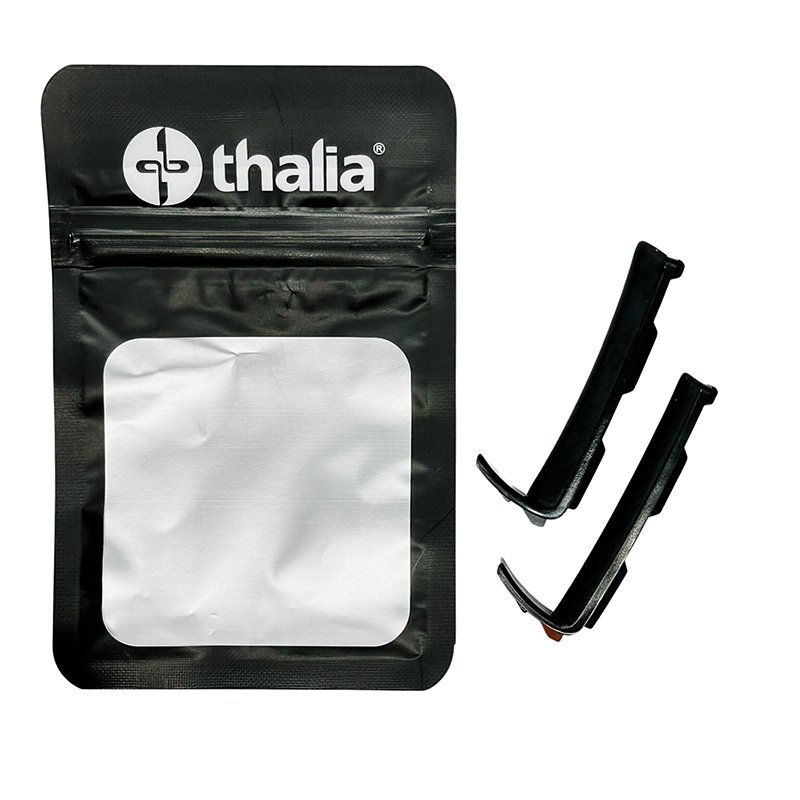 For players seeking a level of enhanced fine-tuning, Thalia offer optional Interchangeable Fine Tuning Fretpad Kits to match the specific fingerboard radius of almost every fretted instrument. These include pads made from tone enhancing Teflon or a blend of silicone that mimics an even, downward finger pressure and texture, allowing first position chords and solo note runs to chime in any key on the fingerboard, with precise and accurate tuning every time without comprising tone or playability.

In addition to the Exotic Capo Series, Thalia offers two upgraded capos with the Deluxe Series featuring UV prints with double inlays, while the Premium Series looks exceptionally classy with beautifully etched side patterns.
Stunning aesthetics aside, after many years of road testing, all Thalia capos are precision engineered, with the reverse fulcrum point and quick release design, allowing for a smooth seamless one-handed operation for key changes, or when switching between guitars with full control over how the capo fits on a variety of neck profiles.
 "We are extremely pleased to partner with JHS for distribution and market development of our D'Andrea USA, Thalia USA, and D'Andrea Custom Products in the UK and Ireland. We have long admired JHS as a market leader and look forward to working with their outstanding team," states Fred DiTomasso: Sales & Marketing Director.
JHS Managing Director Paul Smith says, "We have admired Thalia for many years. Precision engineering, performance and stunning looks aside, their extensive range of premium quality guitar capos manufactured in the USA, also offer musicians a personal touch to their instruments.
 We also applaud how Thalia has grown into a recognised brand worldwide, from which literally started out as a small family-run business. Here at JHS we look forward to introducing the brand to our customers across our territories in the coming year."
The extensive range of Thalia Professional guitar capos are distributed exclusively in the UK and Ireland by JHS Ltd.
The post JHS Distribute Thalia USA Professional Capos within the UK and Ireland first appeared on Music Instrument News.
The post JHS Distribute Thalia USA Professional Capos within the UK and Ireland appeared first on Music Instrument News.
Source: musicinstrumentnews.co.uk