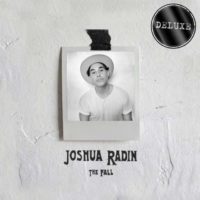 Joshua Radin Premieres Four New Acoustic Tracks
Joshua Radin released his new album, https://itunes.apple.com/us/album/the-fall/id1166703943?app=itunes" target="_blank">The Fall, on January 27.
The album is a 10-track collection of Radin's personal stories told with raw, tremulous vocals with soothing, heartfelt songs.
To the delight of his fans, Radin also has released a deluxe version of https://www.amazon.com/Fall-Joshua-Radin/dp/B01MAYTONX" target="_blank">The Fall, which features previously unheard acoustic versions of four songs from the album: "Falling," "Diamonds," "Still Spinning" and "High and Low." You can hear all four tracks below, via our exclusive stream.
"Sometimes I like playing with a full band," Radin told GuitarWorld.com. "But I wanted you to hear the band songs from my new album the way I wrote them. So here are [the acoustic tracks from] the deluxe version of The Fall. Hope ya dig!"
Radin has built a reputation as a journeyman musician and emotive and honest songwriter whose songs—which GuitarWorld.com called "uplifting and inspirational"—have been featured in more than 100 films.
In support of https://play.spotify.com/artist/7omzannyG2lfDqP5xyZo34?play=true&utm… target="_blank">The Fall, Radin will continue to tour throughout 2017, making stops in Europe and the East Coast. Keep a look out for more tour news later this year.
For more information, visit http://www.joshuaradin.com" target="_blank">joshuaradin.com and follow Radin on https://www.facebook.com/joshuaradin" target="_blank">Facebook, https://twitter.com/joshuaradin" target="_blank">Twitter and https://www.instagram.com/joshuaradin" target="_blank">Instagram.
Joshua Radin Tour Dates
March 28 – New York, NY – City Winery
March 29 – New York, NY – City Winery
March 30 – Fairfield, CT – Warehouse
https://w.soundcloud.com/player/?url=https%3A//api.soundcloud.com/playli… width="100%">
Source: www.guitarworld.com