London International Guitar Show 2018 bigger than ever
London's very own guitar show, The London International Guitar Show (LIGS), returns to Kempton Park Racecourse on Sunday 28th October 2018 from 10am to 4.30pm promising to be even bigger and better in this, its third year, with 140 exhibitors already booked.
Hosted by Northern Guitar Shows Ltd., who have been successfully organising guitar shows throughout the UK for more than twenty years, LIGS has all the trademark features of their other well-established events. These include an affordable entrance fee for visitors, sensibly-priced exhibitor costs with no added extras, free parking for all, good transport links including proximity to the motorways and even a railway station in the venue grounds. Long-distance visitors can also benefit from a large range of reasonably priced accommodation nearby, the organisers say.
'Forged in the style of USA table-top exhibitions, LIGS is first and foremost a retail event. New, vintage and pre-owned guitars, amps and pedals will be available to buy, trade and sell from a host of retailers, distributors, manufacturers, luthiers, boutique makers and private collectors – not to mention a whole gamut of strings and accessories.' NGS says.
As with all the NGS exhibitions, workshops, demonstrations and live music will be available in separate areas throughout the day, with top names in the industry performing in an intimate setting. This year sees German guitar supremo and Vintage Signature guitar endorser Thomas Blug demonstrating his range of BluGuitar amps, speakers and accessories. Former Stone Roses and Asia guitarist Aziz Ibrahim Esq. will be performing an eclectic set. Lazy J Custom Amps will present The Phil Harris Band playing a set of classic rock tracks using some of the most revered and sought after examples of vintage electric guitars. 'Last, but definitely not least, NGS says ' The Huers will showcase their superb songs, great playing and sublime harmonies through the show's PA system provider BOSE professional.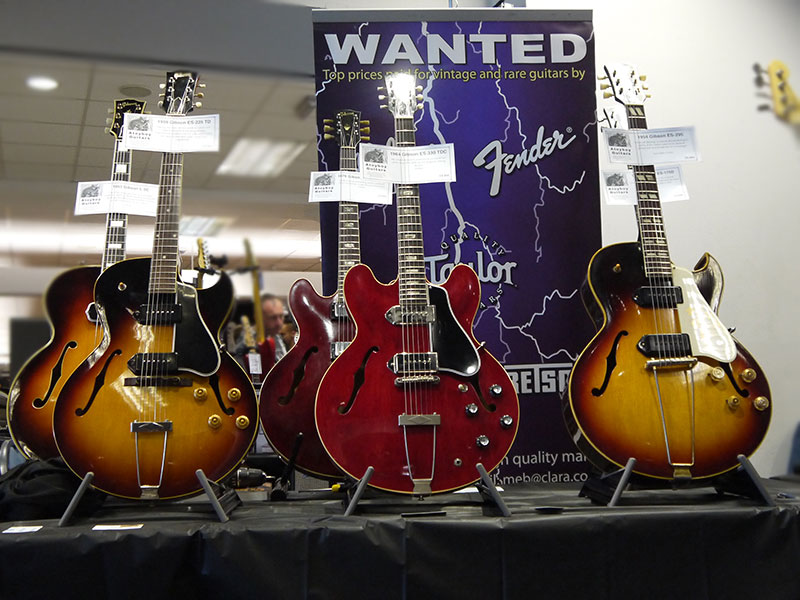 'LIGS is a breath of fresh air for exhibitors who may dread the logistics misery usually associated with guitar shows. Vehicles can pull up practically outside the doors, making load in and out a piece of cake and vastly reducing set-up and breakdown times. Plus, with all live demonstrations and performances confined to a separate area, the ability to conduct business and talk to customers is vastly improved, as is overall noise pollution – you can leave your earplugs at home!'
'We really look forward to every show organised by Northern Guitars Shows,' says Rob Bennett from Shergold Guitars (Barnes & Mullins). 'They are always well attended by lots of passionate guitar players of all ages. Every show has proved to be useful and given us the opportunity to connect with punters in an environment that is always lively and very friendly.'
'Every show we've done with Northern Guitars Ltd. has been fantastic for us,' says Matt Bascetta from House of Tone Pickups. 'The organisers, Peter and Gail, are always very friendly and accommodating and it's a great day out with some brilliant gear and people.' A long list of sponsors includes MIN's sister title Acoustic Review.
Public admission will be just £10 (pay on the door) with accompanied under-12's free.
Registration is open to any business with guitar-related products including retailers, distributors, manufacturers, luthiers, boutique makers and private collectors and dealers. Stands can be booked by sending an email to gail@guitarshows.co.uk or phone 01925 813185 or 07403 346409.
Info: www.guitarshows.co.uk
The post London International Guitar Show 2018 bigger than ever appeared first on Music Instrument News.
Source: musicinstrumentnews.co.uk