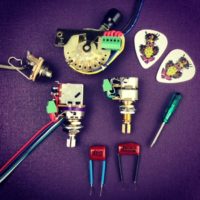 Mad Hatter Guitar Products Introduces New SVST- 2/2 System
Mad Hatter Guitar Products has introduced its new SVST- 2/2 system, the latest addition to Mad Hatter's Transformer series of Terminator systems.
From the company: The Terminator SVST- 2/2 system is designed specifically for Tele-style guitars that have a three-way switch, a single volume and tone control, and two single coil pickups.
Like other Terminator systems in the Transformer Series, the Terminator SVST- 2/2 incorporates a Push/Pull Tone Pot, that, when engaged, gives the guitar additional tonal options.
When engaging the 2/2 P/P Tone Pot, the Goes to Eleven Volume Pot changes from 250k to 500k for a little extra brightness and twang. In addition, Position 3 on the 3-way switch is now both pickups in series for those thick full notes, while at the 500k value the notes are clearer.
Terminator SVST- 2/2 systems start at just $89.99.
For more info on the system, head on over to madhatterguitarproducts.com.
Source: www.guitarworld.com