Meet the Electric Guitar Built Inside the Slammer
Norman Lockamy lovingly built the guitar while serving a 12-year sentence in Huntingdon State Prison in Pennsylvania starting in 1988.
Folsom Prison Blues…
Mama Tried…
30 Days in the Hole…
In the Jailhouse Now.
Whatever your favorite prison song is, we found the greatest electric guitar to play them. It was built by an inmate serving time at a Pennsylvania state prison.
This is "Lady," an electric guitar built by an inmate within the walls of Huntingdon State Prison in Pennsylvania. Huntingdon is a 126-year-old jail that is so old and massive, it is known locally as "The Wall."
Norman Lockamy lovingly built this guitar while serving a 12-year sentence in Huntingdon starting in 1988. It was completely crafted in the facility's woodshop. Legend has it, Lockamy was allowed to purchase some parts while others were smuggled in to complete the guitar.
The guitar is a stunning example of prison folk art. The body and neck are of oak. The headstock is made of curly maple. The binding on the headstock is simply painted on and a hand-stamped brass truss rod cover has the word, "LADY." The guitar is magnificent and plays like butter.
I wanted to learn more about these prison woodshops, so I called prison guard (and instrument builder) Al Hamilton, who said all wood used in the Pennsylvania state prison system comes from nearby Rockview Prison. Hamilton said this guitar is definitely Pennsylvania oak. The fretboard was stained black to simulate ebony, and a thin walnut strip runs up the cap of the carved double-cutaway body. There is a cream-colored binding around the body.
According to Hamilton, Huntingdon Prison's woodshop is there primarily to keep things self-sufficient, with employees and prisoners making repairs to the structure along with furniture and any necessities. During down times, some prisoners are allowed to use resources to create birdhouses, wooden ships and other things to pass the time. Lockamy definitely made good use of his downtime on this guitar and his love can be seen in the details. The carve is unique, with a little more curve than a PRS SE. Even the frets are impeccable.
Taking a close look at this guitar, it's obvious Lockamy wanted to sink some humbuckers into the body when he first designed it. It appears he could only get EMG Select single coils instead, which were too small for the pickup routes. Using prison ingenuity, Lockamy mounted the single coils in the center of the humbucker rings and covered the extra spaces with black construction paper. From a distance, you can't even tell.
This is definitely a guitar made for a Les Paul lover, with its carved body and 24-inch scale. However, Lockamy went for a bolt-on neck design, perhaps for an easier build. The neck pocket is as tight as a vice. Even with the oak construction, the guitar weighs just over 8 pounds.
Lockamy was released from Huntingdon in 2000 and continued to play this guitar for the next 13 years. In 2013, he sold it to Guitars on George in York, Pennsylvania. By then, the guitar had a crack in the headstock (with a poor repair job) and a broken tuner. Guitar shop owner Jerry Duncan purchased the guitar simply on its story alone.
Thanks to Jerry Duncan at Guitars on George and Al Hamilton at Factory Throwouts Cigar Box Guitars for help with this article.
Shane Speal is the "King of the Cigar Box Guitar" and the creator of the modern cigar box guitar movement. Hear the music, see the instruments and read about his Cigar Box Guitar Museum at ShaneSpeal.com. Speal's latest album,Holler! is on C.B. Gitty Records.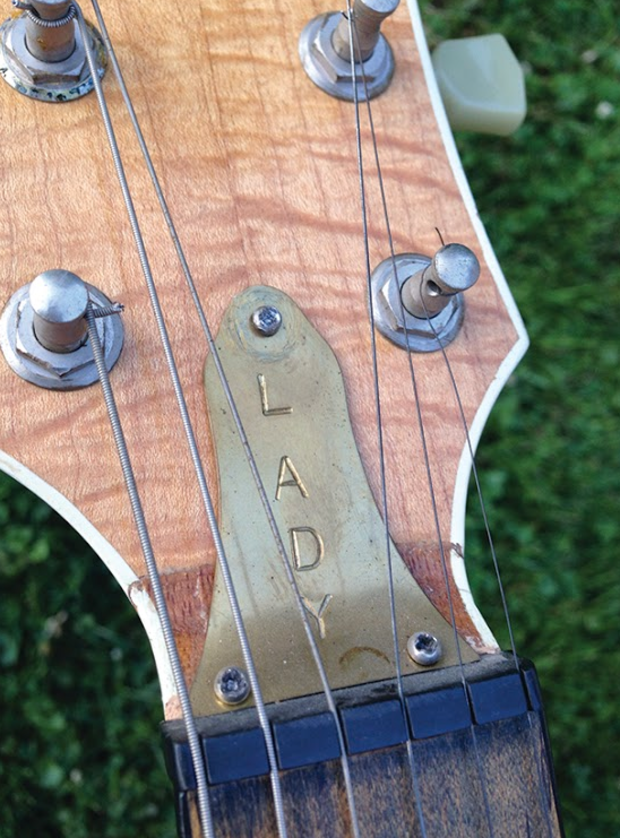 View the 9 images of this gallery on the original article
Source: www.guitarworld.com