MESA/Boogie Announces New Subway D-350 Bass Amp
MESA/Boogie is proud to announce the release of the smallest, and lightest Bass Amp in MESA history, the super-versatile Subway D-350 Bass Amp, available worldwide at authorised MESA/Boogie dealers and on www.MESABoogie.com.
Hand-crafted in Petaluma, CA, the MESA/Boogie Subway D-350 with its world class tone, innovation, and quality is MESA's most affordable bass amp to date. The ultra-compact champion in MESA's Subway Bass Series the MESA/Boogie Subway D-350 weighs only 3 lb. 2 oz., and packs a powerful punch with 350 watts of Class D power.
Building on the legendary foundation laid by the acclaimed Subway® D-800, the new Subway D-350 uses a solid-state preamp coupled with a lightweight Class D power amp and switch-mode power supply to deliver heaping portions of world-class TONE in an incredibly small and lightweight package that's perfect for home use and studio recording sessions while still delivering plenty of power and punch to provide MESA-quality tone authoritatively and dependably, gig after gig for small to mid-sized venues, or as a micro-sized backup amp on tour.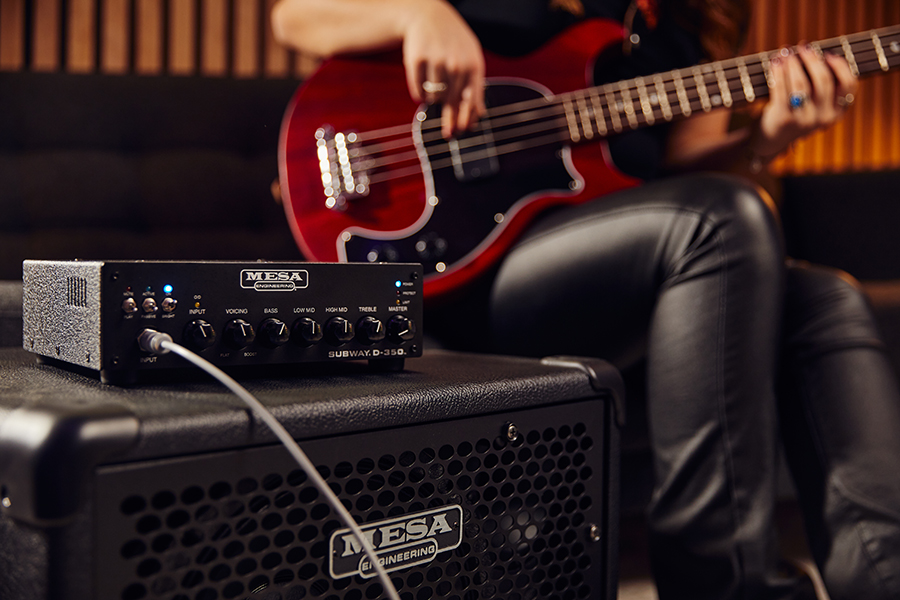 "Our design goal for the entire SUBWAY Series is to deliver warm, musical bass tone in the most compact and portable package possible and the addition of our new 3 lb. 2 oz compact Subway D-350 achieves this goal" says Doug West, Director of the Gibson Tone Lab at MESA/Boogie. "The SUBWAY Series range truly gives bassists every option they need for any venue, from home and silent practice, to club and concert stages. Considering our Subway Ultra-Lite Cabinet range offers players the option for 1×12, 1×15, 2×10, 2×12, 2×15 and 4×10 formats. The inspirational sound these cabs deliver is really the 'other half' of the SUBWAY magic and musicality."
The MESA Subway D-350 easily adapts for use with active or passive basses with the flip of the Active/Passive switch, while the Input Mute switch lets you use inline tuners silently. The Bright switch adds bite and sparkle to the tone and opens up the top end a bit more, and all the switches have LED status indicators. Separate Gain and Master Volume controls allow you to dial up a wide range of tones from shimmering clean to mild overdrive and everything in between, while the built-in fixed high-pass filter (HPF) blocks unwanted, non-musical, headroom-robbing sub-sonic frequencies. The Variable Voicing control adjusts the amp's response from a flatter curve to a more vintage curve by modifying and varying levels and frequency response in multiple regions with the turn of a single knob.
The Subway D-350's intuitive feature set furnishes all the tone-shaping tools needed to deliver the tone, feel, and response that has made the Subway Series MESA's most popular bass line to date. The fully active 4-band Baxandall EQ features fixed frequency high and low-frequency shelving controls, as well as fixed frequency Low Mid and High Mid peak/dip bands for even more tonal control. When practicing at home, the Aux Input and Headphones output jacks let you listen to a media player and your bass simultaneously and silently without disturbing others. The Subway D-350 also has a USB power port for powering accessories, while the fully-featured balanced XLR direct output (DI) with pre/post EQ source, ground lift, and Mic/Line level switches are perfect for delivering MESA's legendary tone to the front-of-house PA or your recording system's audio interface. A pair of speakON jacks allow you to connect one or two speaker cabinets; the Subway D-350 is an excellent partner for MESA's highly musical Subway® Ultra-Lite cabinets. With its ideal combination of small size, light weight, ample power, and stellar tonal flexibility, the Subway D-350 is compact (3″ x 9″ x 8.25″) and fits easily into your gig bag's accessory compartment, or in its own gig bag which is included.
For more information visit: www.mesaboogie.com
The post MESA/Boogie Announces New Subway D-350 Bass Amp appeared first on Music Instrument News.
Source: musicinstrumentnews.co.uk