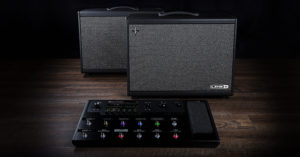 Musikmesse 2018 – Line 6
Yamaha's impressive display at this year's Musikmesse ran to 1,500 sq metres – which amounted to almost an exhibition within the exhibition. Of primary interest on the MI side was the announcement of the latest from Line 6, the Powercab 112 and 112 Plus 'Active Guitar Speaker Systems'.
The idea behind the Powercabs is to deliver ' real amp-in-the-room feel for modellers,' Line 6 says. Guitarists can use Flat Mode to reproduce the sound of their modeller's presets with a wide frequency range and the punch of a real guitar speaker, or bypass their modeller's speaker cabinet emulation and use Line 6's new Speaker Modelling technology to swap in models of any of six classic and boutique loudspeaker drivers. The speaker models range from the Green (based on the Celestion Greenback speaker) to the funky Bayou (based on the Eminence Swamp Thang).
The Powercab speaker system features a 250 Watt power amp and custom hybrid coaxial 12-inch speaker, designed to have a neutral, wide-range frequency response (70 Hz-20 kHz) for Flat Mode, and a lightweight cone to deliver the fast transient response that typifies guitar speakers.
Speaker Modelling is the latest innovation from the company that first introduced amp modelling more than 20 years ago. While speaker cabinet emulation has become commonplace, Powercab 112 systems are the first to offer models of speaker drivers themselves, Line 6 says.
Despite weighing a mere 35 pounds (16 kgs) the curve plywood constructed Powercabs are substantial enough to be gigged, and their highly efficient amplifiers produce up to 125dB Peak SPL – enough volume to fill a small club or medium-sized venue, aided by the included kickback stands. They also have XLR outputs featuring optimized microphone emulation for direct connection to a P.A.
The Powercab 112 Plus adds many features, such as a 2″ LCD, 128 user preset locations, MIDI In/Out, AES/EBU digital I/O, an L6 LINKTM, a USB audio interface, and a multipurpose second input. Users can select the type and distance of a virtual mic on the speaker model. Loading up to 128 third-party speaker cabinet impulse responses (IRs) is also an option, allowing users even greater tone-crafting flexibility.
The Powercabs will be available in the second quarter of this year.
Info: https://uk.yamaha.com/index.html
The post Musikmesse 2018 – Line 6 appeared first on Music Instrument News.
Source: musicinstrumentnews.co.uk