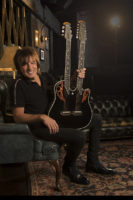 Ovation welcomes Richie Sambora with two new charity models
Ovation Guitars has launched two new Richie Sambora signature guitars benefiting youth music programmes in the USA. The Bon Jovi songwriter/guitarist and 2018 Rock n' Roll Hall of Fame inductee will donate royalties from the sales of the all-new Richie Sambora Signature Series Elite Double Neck guitar to the non-profit organization Notes for Notes which builds, equips, and staffs after-school recording studios in Boys & Girls Clubs across the United States. In addition, Ovation Guitars, in conjunction with the DW Music Foundation (DWMF) will debut the RS Rockstar guitar. This six-string, "RS" model guitar will be donated to each Notes for Notes location along with a DW drumset and an LP cajon to equip each studio with professional level musical instruments. The DWMF will also work with other partnering charities to donate RS Rockstar model guitars to music education programs in underserved communities worldwide.
'Richie is continuously lending his support to important causes and organizations that resonate deeply with him and we are honored to help create these two new guitar models which not only directly support Notes for Notes, but carry on his musical legacy and hopefully inspire the next generation of guitarists,' says DW Music Foundation Executive Director, Elizabeth Lang.
'My relationship with Ovation Guitars goes back to the very beginning," says Sambora. 'They worked with me to help create my original acoustic double neck when nobody else could even figure out how to make one! It's all come full circle now that these new models will help benefit the next generation of players.'
Info: www.ovationguitars.com
The post Ovation welcomes Richie Sambora with two new charity models appeared first on Music Instrument News.
Source: musicinstrumentnews.co.uk