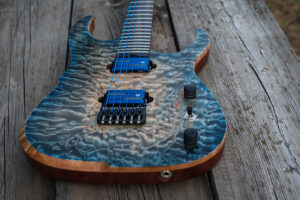 Renowned Artisan Guitar Builder Patrick Hufschmid Unveils Innovative Extended-Scale Guitar for Drop D Tuning
Esteemed artisan guitar builder Patrick Hufschmid, hailing from the charming French-speaking region near Montreux, takes great pride in introducing his latest masterpiece – an extended-scale guitar meticulously designed exclusively for drop D tuning.
Marriage of uncompromising attention to detail with an unwavering spirit of innovation, this extraordinary instrument effortlessly blends breathtaking aesthetics with cutting-edge features, reshaping the landscape of guitar playing. The centrepiece of this creation is an artfully chosen, one-piece exhibition-grade quilt maple top, epitomising elegance and unparalleled craftsmanship.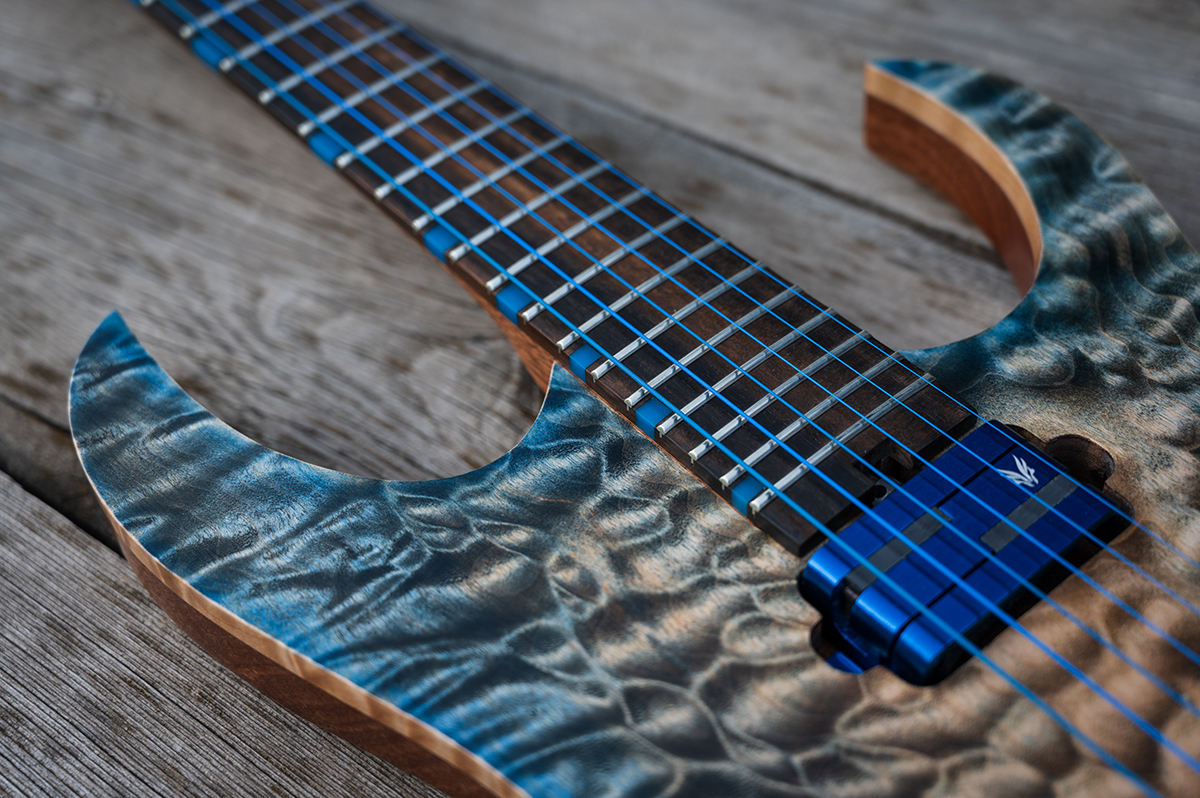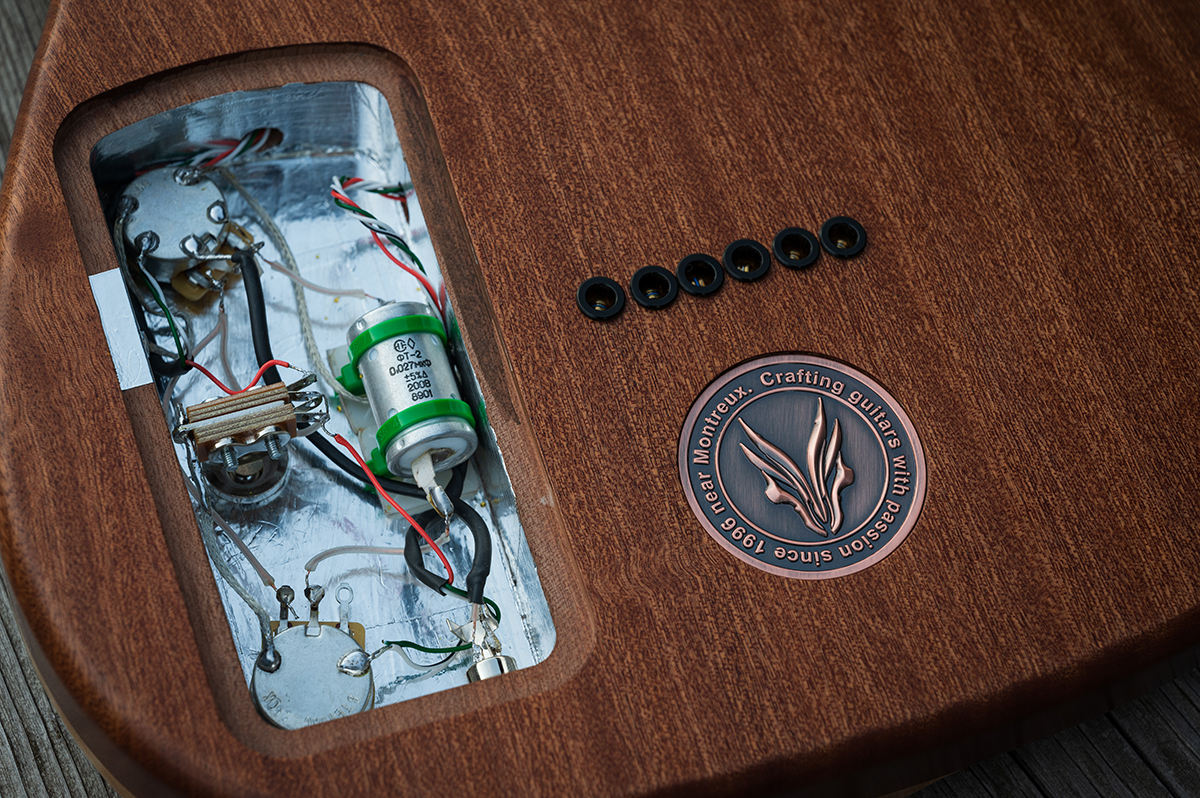 The crowning achievement of this exceptional guitar is its groundbreaking world-first feature: dark blue fingerboard block inlays that come alive with a captivating blue glow in low-light environments. This mesmerising innovation adds an enchanting dimension to the playing experience, creating an aura of mystique around the instrument.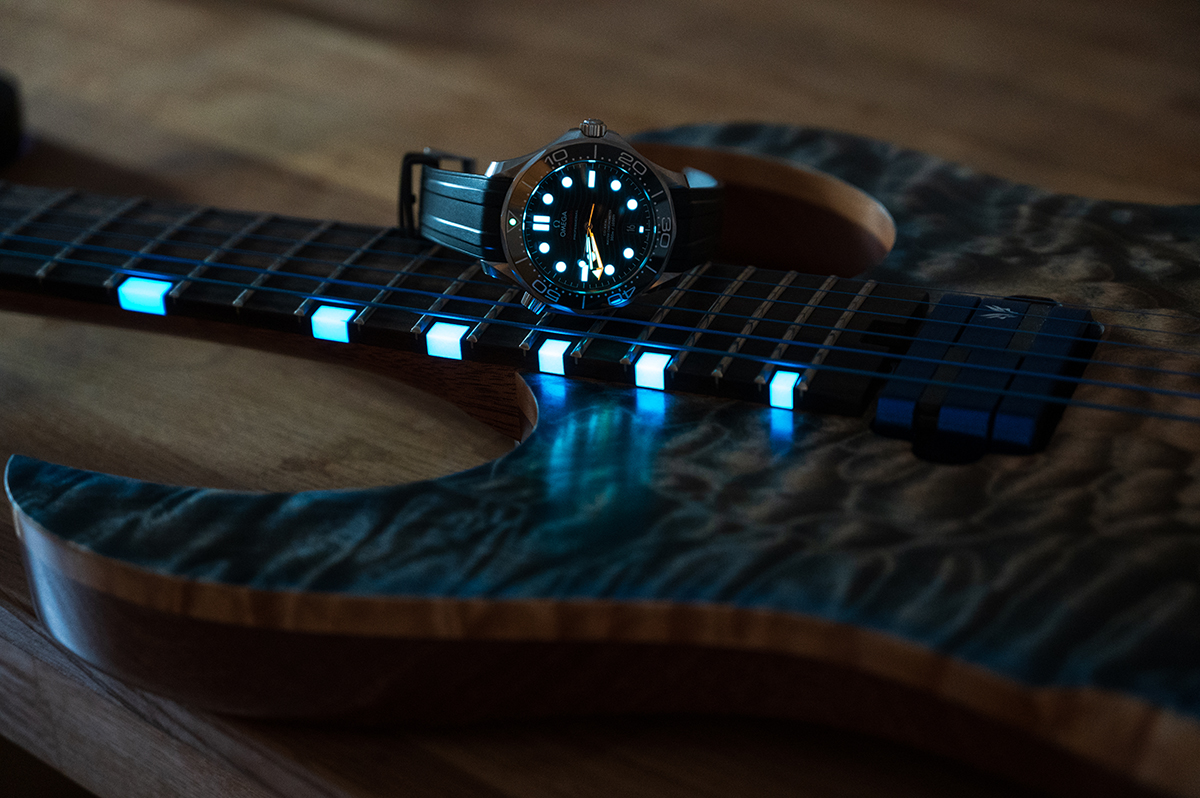 Key attributes of this remarkable extended-scale guitar encompass:
Exhibition-Grade Quilt Maple Top: The highly figured, single-piece quilt maple top stands as a testament to Patrick's unwavering commitment to employing premium materials, resulting in instruments that are both visually stunning and acoustically exceptional.
Perfectly Quartersawn Sapele Mahogany Body and Neck: The incorporation of quartersawn sapele mahogany contributes to the guitar's exceptional sustain and stability, yielding a tonal palette that is rich, dynamic, and resonant.
Innovative Polyetheretherketone (PEEK) Nut: A revolutionary milestone, the pioneering PEEK nut bolsters tuning stability and sustain, elevating the instrument's performance capabilities to unprecedented heights.
Distinctive BLUE Glow-in-the-Dark Fingerboard Block Inlays: An industry first, the blue glow-in-the-dark fingerboard inlays introduce an element of enchantment, casting a captivating visual spell upon players and audiences alike.
Premium Hardware and Electronics: The guitar boasts high-tolerance CTS pots, Hipshot hardware, and custom blue anodised alumitone deathbuckers with a laser-etched logo, ensuring optimum playability and tonal versatility.
Impeccable Craftsmanship: A hallmark of Patrick's artistry, the guitar is adorned with 25 meticulously hand-applied coats of oil-based varnish, culminating in a smooth and luxurious finish that accentuates the instrument's inherent beauty.
Enthusiasts and musicians seeking an unparalleled and distinctive playing encounter can now order Patrick's masterpieces. For further details and to place an order, please visit http://www.hufschmidguitars.com. This is a rare opportunity to possess a piece of musical ingenuity that defies conventional design and performance boundaries.
Explore Patrick's curated selection of meticulously crafted plectrums at http://www.plectrum.ch, a perfect complement to your individual playing style.
About Patrick Hufschmid
Patrick Hufschmid is a distinguished artisan guitar builder situated in the picturesque Swiss region adjacent to Montreux. Fuelled by an unwavering zeal for craftsmanship and innovation, Patrick consistently forges exceptional custom guitars that captivate the discerning senses of musicians and collectors worldwide. Each instrument serves as a testament to Patrick's resolute commitment to pushing the frontiers of design and performance.
The post Renowned Artisan Guitar Builder Patrick Hufschmid Unveils Innovative Extended-Scale Guitar for Drop D Tuning appeared first on Music Instrument News.
Source: musicinstrumentnews.co.uk