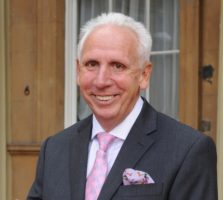 Robert Wilson MBE bows out
Robert Wilson, chairman of Sound Technology and one of the most entrepreneurial figures in the British MI industry of recent decades, officially retires today. Wilson, who received an MBE in the 2016 New Years Honours List for 'services to the music industry and charity', founded distributor Sound Technology from his home almost 40 years ago, turning it into what became possibly the largest MI distributor in the UK, eventually selling the business in December 2017 to Midwich Group Plc.
In addition to creating and developing Sound Technology, Bob Wilson has also been a long standing director of the Music Industries Association (MIA), National Association of Music Merchants (NAMM), Music For Youth (UK Charity) and the Confederation of European Music Industries (CAFIM), as well as organising a large number of industry trade shows through the years.
Wilson began his MI career in 1965 as a Saturday boy at Golumb's musical instruments and camera shop in Glasgow's Saltmarket, moving to Rose-Morris in Kentish Town, London before starting Sound Technology. During the '80s and '90s, he lived in Rochester (NY) and Los Angeles, initially working with MXR Innovations as Director of International Sales, before moving to Alesis where to become Vice-Chairman taking responsibility for the international market.
In its time, Sound Technology has introduced and represented some of the biggest names in MI and Pro Audio including (but by no means limited to): Alesis, Barcus Berry, Crown amplifiers, Digidesign, EBS, Line 5, Nord, Oberheim, Roli, Samson, Solid State Logic, Fishman, G&L Guitars, Groove Tubes, Hughes & Kettner, Kurzweil. Larrivee, Teenage Audio, Washburn and the entire Harman catalogue of Pro Audio and MI products.
Announcing his decision to sell Sound Tech in December, Wilson said: 'It seems only a few years ago that I started the company and then expanded our warehouse from our bedroom into the garage. Now we have a staff of 60+, substantial offices, warehouses and a state of the art sound stage. Not sure where the 40 years went, but have enjoyed every minute of it'.
MIN wishes Bob a log and happy retirement.
The post Robert Wilson MBE bows out appeared first on Music Instrument News.
Source: musicinstrumentnews.co.uk