Roland Lifestyle to Auction One-of-One 808 Day 2023 Custom BMX Bike
To celebrate 808 Day 2023, Roland, the world's most iconic electronic musical instrument brand, is partnering with Roland Lifestyle and 1500 Sound Academy to auction off a one-of-one 808 BMX Bike. The 808 BMX Bike celebrates the impact of the Roland TR-808 drum machine on music over the past four plus decades. Proceeds from the auction will help fund a scholarship for an inspiring artist to attend the on-campus Music & Industry Fundamentals Program at 1500 Sound Academy in Inglewood, CA.
"I believe music is a ladder for the soul to reach the highest realms and to participate in an initiative to help a student gain access to one of the best music schools in the world is an honor," said Nathan Chandra, founder and creative director of Roland Lifestyle. "It is exciting to work with the 1500 Sound Academy and Roland to help fund the dream of music for the next generation."
The auction for the Roland 808 BMX Bike will go live on August 8th at 12:00 AM PDT and end August 16th at 11:59 PM PDT. Proceeds from the auction will go towards a scholarship for a student through the 1500 Sound Academy in Inglewood, California. The proceeds from the winning bid will help fund a scholarship for one lucky student through the 1500 Sound Academy.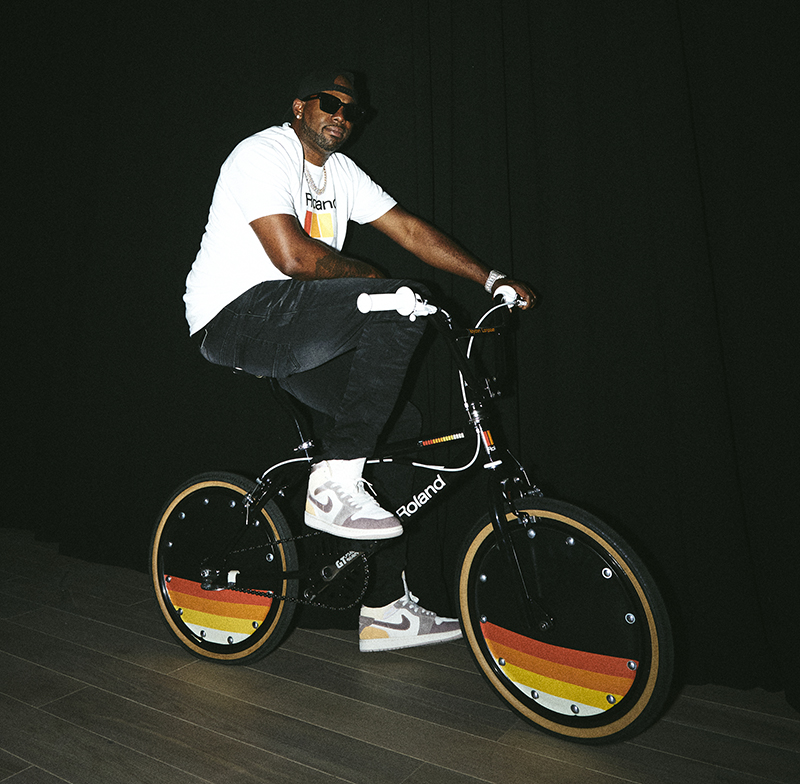 "1500 Sound Academy was founded with the goal to give back to our community," said Larrance 'Rance' Dopson, GRAMMY-winning producer and co-founder of 1500 Sound Academy. "It is an honor to be a part of Roland's iconic 808 global celebration where art, music, and culture help young artists fulfill their dreams."
This one-of-one retro Roland 808 BMX Bike was commissioned from renowned graffiti artist and custom vintage BMX designer, DUROTHETHIRD, and is made from all original vintage parts including a 1993 Dyno Compe frame, GT power series cranks, Odyssey pedals, Dyno pretzel bars, Panaracer tires, custom wheel hubs and other classic parts and accessories.
The 808 Day 2023 BMX Bike auction can be accessed on Roland Lifestyle's website at: www.RolandLifestyle.com.
After Roland pioneered the TR-808 Rhythm Composer in 1980, the 12,000 units became a cultural phenomenon and created foundational sounds for hip-hop and electronic music. The 808, as it came to be known by many, can be heard on hit records spanning numerous genres from artists like Phil Collins, Marvin Gaye, Run DMC, Whitney Houston and the Beastie Boys, to name a few. Today, it is still used by artists like Kanye West, Pharrell, Timbaland, Swizz Beatz, and music producers all around the world.
About Roland Lifestyle
Founded in late 2020, Roland Lifestyle's mission is to bridge music, fashion, and culture by telling Roland's iconic story through apparel and collectable products. This stems from a desire to reach beyond musicians using the Roland products to fans of the company and more importantly, the music it helps create. Roland Lifestyle has the power to educate fashion and music enthused audiences, about the legacy of Roland, through a medium they can relate to, wear every day and collect. Roland Lifestyle: Web, Instagram, Twitter, Facebook
About Roland Corporation
For more than 50 years, Roland's innovative electronic musical instruments and multimedia products have fueled inspiration in artists and creators around the world. Embraced by hobbyists and professionals alike, the company's trendsetting gear spans multiple categories, from pianos, synthesizers, guitar products, and electronic percussion to DJ controllers, audio/video solutions, livestreaming products, and more. As technology evolves, Roland continues to lead the way for gigging musicians, producers, and beatmakers, providing modern software-based solutions and seamless creative workflows between hardware products, computers, and mobile devices. Now, for the first time ever, Roland is bridging music and culture with its first-ever apparel line via Roland Lifestyle. For more information, visit Roland.com or see your local Roland dealer. Follow Roland on Facebook, Twitter (@RolandGlobal), and Instagram (@RolandGlobal).
About 1500 Sound Academy
1500 Sound Academy strives to produce passionate sound creators with mentorship, positive mindset, and professional development. Featuring state-of-the-art facilities, an award-winning staff and unique curriculum, 1500 Sound Academy functions as a gateway between school and career by providing instruction in current and emerging business practices of the music industry for creators around the world. The Academy is led by an accomplished team, consisting of Grammy award-winning R&B/Pop singer-songwriter James Fauntleroy, musician and Grammy award-winning producer Larrance "Rance" Dopson, and successful entrepreneur and executive, Twila True, Co-Founder of True Family Enterprises, a privately held family office based in Orange County, California. 1500 Sound Academy is a subsidiary of Volume Ventures, LLC, an independent, multi-faceted entertainment company that provides comprehensive music and video production, publishing, and education services to aspiring and established recording artists, songwriters, musicians and music videographers. 1500 Sound Academy has a top-notch curriculum that has featured some of the biggest music stars, in which guest lecturers at the academy have included such world-renowned artists as: Kendrick Lamar, Bruno Mars, Sean "Diddy" Combs, Master P, Snoop Dogg, Justin Timberlake to name a few. For more information, visit 1500SOUNDACADEMY.COM.
Follow 1500 Sound Academy:
Instagram: @1500SoundAcademy
Facebook: @1500SoundAcademy
The post Roland Lifestyle to Auction One-of-One 808 Day 2023 Custom BMX Bike first appeared on Music Instrument News.
The post Roland Lifestyle to Auction One-of-One 808 Day 2023 Custom BMX Bike appeared first on Music Instrument News.
Source: musicinstrumentnews.co.uk