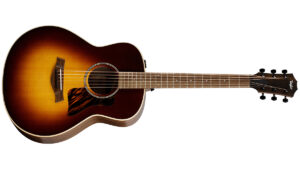 Sunburst Trio added to popular Taylor American Dream Series
Taylor® Guitars, a leading global builder of premium acoustic guitars, is excited to introduce three new additions to its popular American Dream Series – the Grand Theater AD11e-SB, Grand Concert AD12e-SB and Grand Pacific AD17e-SB. The new guitars feature a hand-painted tobacco sunburst top, firestripe faux tortoiseshell pickguard and 4mm Italian acrylic dot fretboard inlays for a rootsy, vintage look. The sound is flavored by a combination of a solid Sitka spruce top and solid walnut body, delivering a warm, woody midrange tonal character that's comparable to mahogany, with unique clarity and sparkle. The guitars are available now in authorised Taylor dealers worldwide.
"We're excited to expand the American Dream family with these new sunburst guitars," says Andy Powers, Taylor's chief guitar designer, President and CEO. "The time-honed look, sound and feel make these models appealing options for many musicians who find inspiration in the undeniable beauty of an unassuming instrument, whether on stage, in the studio, or in the hands of a songsmith."
The award-winning American Dream Series was first introduced in 2020 during the pandemic. The solid-wood, U.S.-made acoustic guitars were designed to deliver all the essentials of a premium acoustic guitar, with a thoughtfully streamlined appointment package to make the guitars more accessible during a time of economic uncertainty and increased consumer demand. Each American Dream guitar is voiced with Taylor's tone-enhancing V-Class® bracing system (and new C-Class® bracing for the AD11e-SB). Appointments on the new sunburst American Dream guitars support the rootsy, organic vibe, with black top purfling, a black/maple/black rosette, black satin tuners and a thin matte finish. Chamfered body edges add additional playing comfort alongside Taylor's ultra-playable necks.
AD11e-SB
The all-new AD11e-SB features the new Taylor Grand Theater (GT) body shape, which sports a comfortably downsized frame and scale length. Tonally, it's voiced with C-Class bracing (a variation on V-Class bracing) that enhances the low-end response to give the guitar the tonal depth of a full-size guitar. The new model includes a special 24-1/8" scale length and is strung with light-gauge D'Addario XS coated phosphor bronze strings.
AD12e-SB
The AD12e-SB brings the first spruce-top Grand Concert to the American Dream Series. Powered by V-Class bracing, the clarity, responsiveness and note-to-note definition of the compact body makes the AD12e-SB perfect for fingerstyle guitarists, nimble flatpickers and recording applications. The guitar is strung with light-gauge D'Addario XS coated phosphor bronze strings.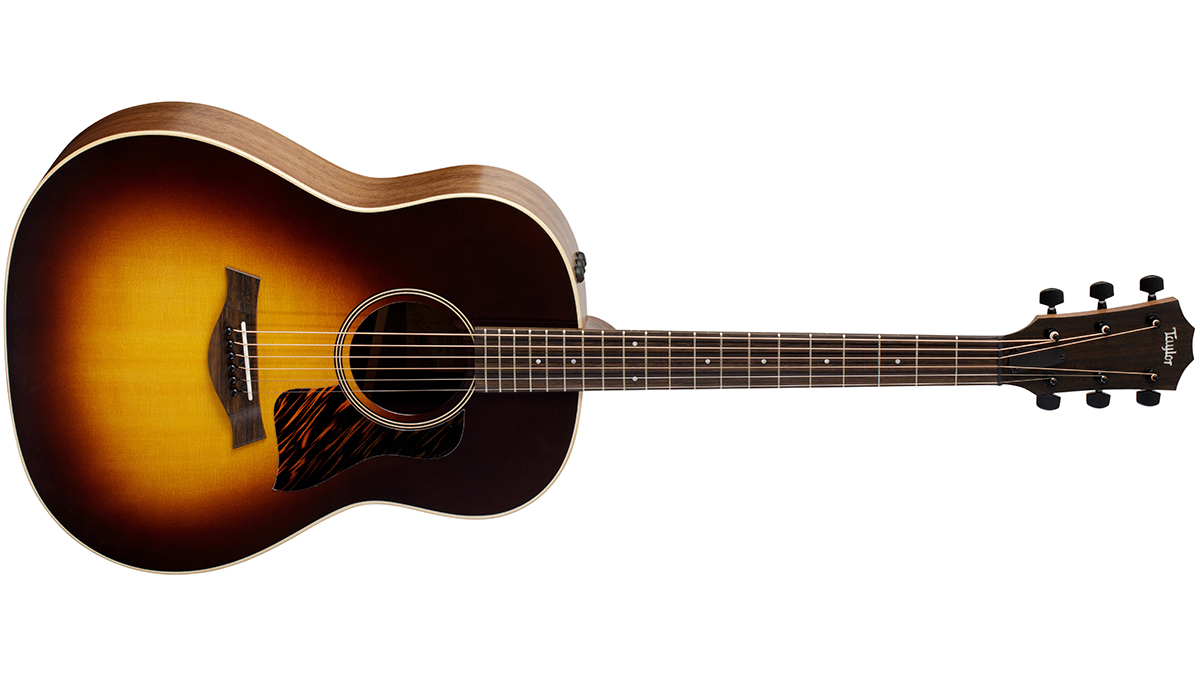 AD17e-SB
The AD17e-SB features Taylor's Grand Pacific body shape, a round-shoulder dreadnought inspired by classic acoustic guitar recordings. With a 25-½" scale length and medium-gauge D'Addario XS coated phosphor bronze strings, this guitar is a midrange powerhouse that serves up seasoned tone without sacrificing balance or articulation.
The new sunburst American Dream guitars include Taylor's onboard ES2 electronics and a brown or gray AeroCase for convenient transportation.
For more information about the new models and the entire Taylor lineup, please visit www.taylorguitars.com and follow us on Facebook, Instagram, YouTube and Twitter.
About Taylor Guitars
Taylor Guitars was founded in 1974 by Bob Taylor and Kurt Listug and has grown into the leading global builder of premium acoustic guitars. Taylor now employs over 1,500 people and currently produces hundreds of guitars per day in its state-of-the-art factory complexes in both El Cajon, California, and in Tecate, Baja California, Mexico. The company maintains an active dealer network, with Taylor guitars sold through hundreds of retail locations in North America and with international distribution to 65 countries, including a distribution warehouse and factory service center in the Netherlands. In December of 2020, Taylor transitioned to 100-percent employee ownership, with Bob and Kurt continuing to guide the company forward and Andy Powers leading the guitar design efforts while also serving as President and CEO.

The post Sunburst Trio added to popular Taylor American Dream Series appeared first on Music Instrument News.
Source: musicinstrumentnews.co.uk