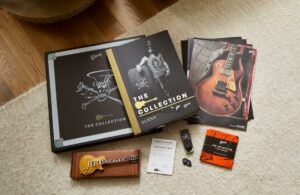 The Collection: Slash" Premium Custom Edition Book
The rock icon SLASH, has created The Collection: Slash, a premium, hardcover coffee-table photo book where SLASH tells the story behind the instruments he has used throughout his storied music career, on countless hit records, and on stages worldwide in front of millions. Due to arrive in January 2023, The Collection: Slash Custom edition is available for pre-order in the U.S. via: https://www.gibson.com/en-US/Collection/slash; for outside the U.S., visit rufuspublications.com/Gibsonbooks.
Few artists have had as profound an impact on modern music as the rock icon SLASH. From Guns N' Roses to Slash's Snakepit, and Velvet Revolver to his latest collaborations with Myles Kennedy and The Conspirators, SLASH brings his inimitable style and swagger to each project and continues to influence countless guitarists and musicians across generations and genres worldwide. In The Collection: Slash, the guitarist draws new insights into the stories behind the music through exclusive interviews with Mark Agnesi (Director of Brand Experience at Gibson). At over 300 pages in length, The Collection:Slash is lavishly illustrated, a rare and collectible book with numerous photos of the guitarist and his impressive guitar collection, shot by the Gibson team, and legendary rock photographer Ross Halfin, whose relationship with SLASH extends back to an early Guns N' Rosesportrait session from 1986. Written and edited by Gibson editor-in-chief Chris Vinnicombe, The Collection: Slash is a must-have for both SLASH fans, as well as anyone who admires fine and rare guitars.
Only the highly collectible Custom edition of The Collection: Slash is hand-signed by SLASH and limited to 500 copies worldwide. The Custom edition measures 297 x 420 mm (11.69 x 16.54") and comes inside a deluxe clamshell protective box with premium case candy inside the package including an Axe Heaven® Appetite Les Paul miniature guitar, an exclusive SLASH bandana, a guitar pick tin with Dunlop® guitar picks, a cover poster, four guitar art prints, and a certificate of authenticity.
"It's been a blast working with Gibson to create a platform for me to talk about my favorite thing, guitars," says SLASH. "This book is a great exposé of all the great guitars I've collected over many years."
"Launching Gibson Publishing in partnership with Slash for our debut book The Collection: Slash marks an important milestone for all of us at Gibson Brands," says Cesar Gueikian, Brand President of Gibson Brands. "We continue to leverage our iconic past and lean into the future creating more opportunities for music fans around the world to experience original storytelling. With Gibson TV, Gibson Records, and now Gibson Publishing, we are organically growing our own media platform that continues to create compelling original content. I am proud of what our media team led by Beth Heidt, Mark Agnesi, Todd Harapiak, Lee Bartram, and Chris Vinnicombe have accomplished together with the extended team. And I am grateful to Slash and his team's partnership for our debut publication."
Click here to read an advance excerpt from The Collection: Slash
(book excerpt for viewing only, do not publish excerpt without permission).
The stunning The Collection: Slash is the first official book release for Gibson Publishing which marks the next major step in the evolution of Gibson Brands'media platform which promotes music experiences to fans worldwide. As with the recently launched music label Gibson Records which released Slash Ft. Myles Kennedy & The Conspirators' acclaimed new album titled, 4 this year–the first project for Gibson Publishing is this premium book with Gibson Global Brand Ambassador and rock legend, SLASH. Gibson Publishing is committed to sustainable and environmentally conscious publishing and uses FSC-certified and recycled materials wherever possible. Stay tuned for additional exciting releases from Gibson Publishing in the coming months, including print publications celebrating music milestones, brand stories, artist collaborations, and more.
About SLASH
SLASH the iconic, GRAMMY-winning, American rock guitarist, songwriter and film producer-has amassed album sales of over 100 million copies, garnered a GRAMMY Award and seven GRAMMY nominations, was inducted into the Rock and Roll Hall of Fame and is a New York Times Best-selling author. SLASH is considered one of the greatest rock guitar players of all time and one of the most recognizable faces in pop culture worldwide. Time magazine placed SLASH at #2 (Jimi Hendrix was #1) in its list, "The 10 Greatest Electric Guitar Players." SLASH created signature sounds like the guitar riff on #1 hits for Guns N' Roses "Sweet Child o' Mine" and "Welcome To The Jungle." After leaving the band, SLASH went on to critical acclaim with SLASH's Snakepit and global success with the supergroup Velvet Revolver before embarking on his own solo career. After landing on the top of the charts with his first solo album, Slash (2010)–which featured Ozzy Osbourne, Fergie, Myles Kennedy and more he formed his current band SLASH FT. MYLES KENNEDY & THE CONSPIRATORS (SMKC)–which features Myles Kennedy (lead vocals), Brent Fitz (drums), Todd Kerns(bass/vocals) and Frank Sidoris (rhythm guitar)–who've been touring worldwide and making music together non-stop for over a decade. SLASH FT. MYLES KENNEDY & THE CONSPIRATORS (SMKC) released their debut album, Apocalyptic Love (2012) which stormed the Billboard Top 200 Albums Chart debuting at #4 on the overall chart as well as the #1 Top Rock album, and spawned SLASH and the band's first-ever #1 solo radio hits "You're A Lie" and "Standing In The Sun." The band's second album, World On Fire (2016) debuted to global praise and the album's title track, "World On Fire" ascended to #1 at U.S. Rock Radio. In 2016, Guns N' Roses re-united and SLASH joined Axl Rose and Duff McKagan for the historic and ongoing world tour which Billboard magazine ranks as the third highest grossing tour of all time. SLASH FT. MYLES KENNEDY & THE CONSPIRATORS released their third album Living The Dream(2018) which Rolling Stone declared "a biting blues filigree at the end of a riff, weeping solos full of long notes and boogie-woogie riffs" and the Los Angeles Times added is full of "unexpected funk, boogie, blues and garage rock influences."Living The Dream debuted with 10, Top 10 Chart placements across the globe fueled by the Top 5 song "Driving Rain." The group's first new music in four years, SMKC released their vibrant new album 4 via Gibson Records–the iconic American guitar brands' newly established record label—which debuted as the #1 Most-Selling Hard Rock Album on February 11, 2022 and has earned the group the best critical acclaim of their career. The band's strongest collective statement to date, 4, was co-produced by Dave Cobb (Chris Stapleton, Jason Isbell, John Prine, Rival Sons), and recorded at the famed RCA Studio A in Nashville, revealing a stunning, vital, sound and style, all captured live. The first single off 4 "The River Is Rising" marked SMKC's 8th, consecutive Top 10 hit single at radio. Rolling Stone hailed the song as "raucous," and Billboard called it "euphoric" with "a surging main riff, dissonant hooks, an infectious chorus, and a guitar solo that conjures images of a rowdy bar brawl." Watch and share the official video for "The River Is Rising" HERE and view SMKC perform the song on Jimmy Kimmel Live!, HERE. 4 is SLASH's fifth solo album overall, and his fourth with MYLES KENNEDY & THE CONSPIRATORS; watch the current videos, interviews, and making of the album clips HERE. For more information, visit: www.slashonline.com.
About Gibson
Gibson, the leading iconic guitar brand, has shaped the sounds of generations of musicians and music lovers across genres for 128 years. Founded in 1894 and headquartered in Nashville, Gibson Brands has a legacy of world-class craftsmanship, legendary music partnerships, and progressive product evolution that is unrivaled among musical instrument companies. The Gibson Brands portfolio includes Gibson, the leading guitar brand, as well as many of the most beloved and recognizable music brands, including Epiphone, which has been on every stage since 1873, Kramer, the original MADE TO ROCK HARD guitar brand, MESA/Boogie, the home of tone, and KRK, behind great music for over 30 years, and Maestro, the founder of effect pedals. Gibson Brands is dedicated to quality, innovation, and sound excellence so that music lovers for generations to come will continue to experience music shaped by Gibson Brands. Learn more at Gibson.com and follow us on Twitter, Facebook, Gibson TV, and Instagram.

The post The Collection: Slash" Premium Custom Edition Book appeared first on Music Instrument News.
Source: musicinstrumentnews.co.uk