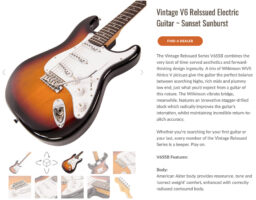 Vintage Guitars Launches New Website for United States Marketplace!
Vintage Guitars, manufacturer of classic designed electric and acoustic guitars is thrilled to announce the launch of a new website for their United States market via its distributor RBi Music. With the explosion of guitars sales throughout the world and, in particular, the US marketplace, it was time to make the website match the times.
The new site prioritizes ease of navigation with simple dropdown menus that lets the user find specific guitars with ease; a "Quick View" option for every product that shows pictures and a summary allowing for quick scans in a jiffy; accurate and complete product info on every product page that includes videos as well as 360º photos; detailed artist information; a robust dealer finder, and incredibly fast page load times. And to top it off, it looks cool as hell!
"Our old site did the job well", says Vintage Product Manager, Rick Taylor, "but this new version takes it to a whole new level. On both the desktop and mobile platforms, the user experience is simply amazing. The speed of the site, the ease with which one can find exactly what they are looking for, and ability to take a 360º tour of every single guitar we offer really makes the site special."
Visit the new Vintage USA site at VintageGuitarsUS.com

The post Vintage Guitars Launches New Website for United States Marketplace! appeared first on Music Instrument News.
Source: musicinstrumentnews.co.uk