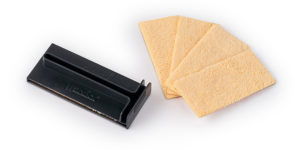 Warwick expands instrument care range
The growing range of guitar care products offered by Warwick/Framus has been expanded with the addition of a neck rest, workbench pad and string care products.
The Work Bench Pad and the Work Bench Instrument Neck Rest, RockCare are designed for use when for repairing, adjusting and modifying guitars and basses. Both tools are available separately or as a set.
The RockCare Work Bench Pad (dimensions (W x D x H) 620 x 450 x 5 mm / 6 11/16" x 10 5/8" x 4 3/4", weight 1.8 kg / 4 lbs) is a soft non-slip bench top to protect instruments while working on them. It is made of a dense vulcanised rubber that is shock absorbent and does not slip.
The RockCare Neck Rest is a shock-absorbing support for guitar necks. Its foldable design fits electric and acoustic instruments alike. The Neck Rest's dense but flexible fine pellet filling acts as shock absorbent and cushions the instrument neck, even during hammer blows when installing frets. Also suitable as counterweight. Size (L x W) 345 x 160 mm / 13 9/16" x 6 5/16". Folds to 170 x 160 mm / 6 11/16" x 6 5/16". Weight 4 kg.
Meanwhile, the RockCare StringJet range now has a model suitable for use with seven and eight string guitars and five and six string basses – the RockCare StringJet 86 String Cleaner Set.
Info:http://www.w-distribution.de
The post Warwick expands instrument care range appeared first on Music Instrument News.
Source: musicinstrumentnews.co.uk