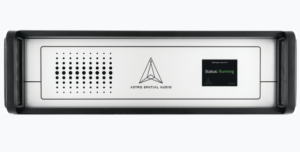 2B Heard named UK solutions partner for Astro Spatial Audio
The deal will see 2B Heard provide sales and support for the UK market.
2B Heard will provide UK-based sales and support for Astro Spatial Audio, after being appointed UK solutions partner for the immersive audio specialist.
The announcement follows 2B Heard's appointment as a dealer for the new SSL L100 console.
"The concept of immersive audio is taking on powerful momentum within our industry, but not all solutions are equal – that much is clear as soon as you experience Astro Spatial Audio," said 2B Heard's Dave Wooster. "The system works with every brand of loudspeaker and every type of console, it's fully scalable from one venue to the next and, most importantly, it sounds incredible."
"The UK is one of the world's most important markets and we have long wanted to find like-minded people there with whom we can grow," added Astro Spatial Audio managing director, Bjorn Van Munster. "Our key philosophy is that we are completely independent of all brands – with Astro Spatial Audio, the only limitation is your imagination. Dave and Sam at 2B Heard really understand this, and they're ready to support all of our partners while ensuring that Astro Spatial Audio becomes the standard for 3D sound."
Source: mi-pro.co.uk