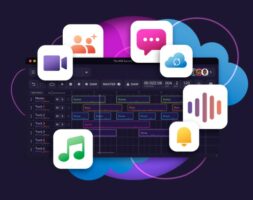 BeatConnect Raises CA $3M In Early Investment Round To Shape Future Of Virtual Music Tech
BeatConnect, the digital collaboration-based music platform, has closed a successful initial investment round, raising CA$3M (US$2.2M) from major players. Lead investor FICC (Fonds d'investissement de la culture et des communications) and its partners have contributed a total of CA$1.4M. Angel investor network Anges Québec joins them with CA$850K. CA$750K comes from Triptyq Capital, the first investment fund in North America to be completely focused on entertainment tech.
With this capital, BeatConnect will build its groundbreaking tool designed for multiple overlapping sectors of the creator economy. By linking multiple DAWs together for cross-platform collaboration and remote sharing sessions, BeatConnect connects users in accessible ways that maximize creative interactions between individuals all over the world. Producers and musicians can work together from their respective home studio asynchronously or in real time.
BeatConnnect will be building the next phase of the platform, allowing anyone to join a producer for a challenge or learn and create with others. "We're creating an accessible microcosm," explains Turbide. "You make something, you share it with everyone, people listen to it and give feedback, and then make something of their own. It motivates users to explore and share their creativity, and it does that in an enjoyable, accessible way." Having a certain piece of software or a well-developed professional network will no longer be a barrier for aspiring artists and producers as they remix, post, and collaborate in the open BeatConnect world.
This unique and widely applicable approach to collaborative music tech has convinced BeatConnect's slate of investors. "At the root of any great creative piece, there's collaboration," says Francois Guy, Angel Investor at Anges Québec. "The music industry has done little to break down the silos that keep their customers captive. Now comes BeatConnect with revolutionary technology that will enable creators to collaborate seamlessly, create more, and monetize their content. Their platform will be the destination for all musicians, from amateurs to seasoned professionals."
Other backers concur, especially including top supporters at FICC. "Since its creation in 1997, FICC has offered financial partnerships to Quebec companies involved in the creation, production, and distribution of cultural products and services," note General Manager Robert Charpentier and Investments Manager Gilles Labranche. "Over the years, technology has become an increasingly major component of cultural development, and BeatConnect's fantastic team is at the heart of FICC's digital strategy. We are proud to have led this round of financing and to be part of this journey."
For these investment firms, funding BeatConnect signals a new way forward for music tech that promises much-needed change in entertainment as a whole. "The music industry has been at the forefront of digital transformation," says Guillaume Therien, a partner at Triptyq. "From the creation, production, and distribution to monetization process, the business models have been disrupted while the audience has been growing globally and finding new ways to interact with music creators. Triptyq Capital is proud to partner with BeatConnect's impressive founding team, who are democratizing music creation with a playful, collaborative, and disruptive technology."
About BeatConnect
Since BeatConnect launched in 2020, the Montreal-based startup has paved the way for musicians anywhere in the world to come together in shared virtual spaces. Seamlessly integrating into all major DAWs, BeatConnect allows users to collaborate in real time from their respective home studios. Once BeatConnect is installed, musicians and producers can start playing and editing together with no extra setup required.

The post BeatConnect Raises CA $3M In Early Investment Round To Shape Future Of Virtual Music Tech appeared first on Music Instrument News.
Source: musicinstrumentnews.co.uk