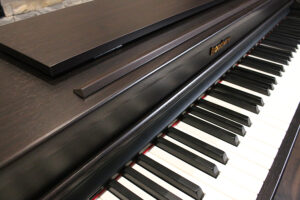 Broadway BW1 Digital Piano Review
Sister site Keys Review takes a look at the BW1 Digital Piano from Broadway. Take a listen to what Tom discovered from assembly to tone in this impartial review.
Specifications
Keyboard: new RHA
Fully-weighted keys (88 full size keys – same as an acoustic piano)
Graded hammer action (each note gets gradually lighter as you ascend the keyboard – emulates a real piano)
Touch sensitive keys
5 dynamic levels
Speakers: 2 x 20 watts
256 note polyphony
36 voices (different instrument sounds)
Bluetooth (connect your mobile or tablet wirelessly)
Bluetooth Audio/MIDI (5.0)
Sound source ROS V.6
20 rhythms
20 piano assist
3 digit LED display (allows you to use any function with ease)
String resonance
Damper resonance
Cabinet resonance
Adjustable music rest (to suit your position)
HD Reverb, HD Effect
3 Pedals (Damper, soft and sostenuto)
Half damper pedal
Available in three colours: Black satin, dark rosewood and white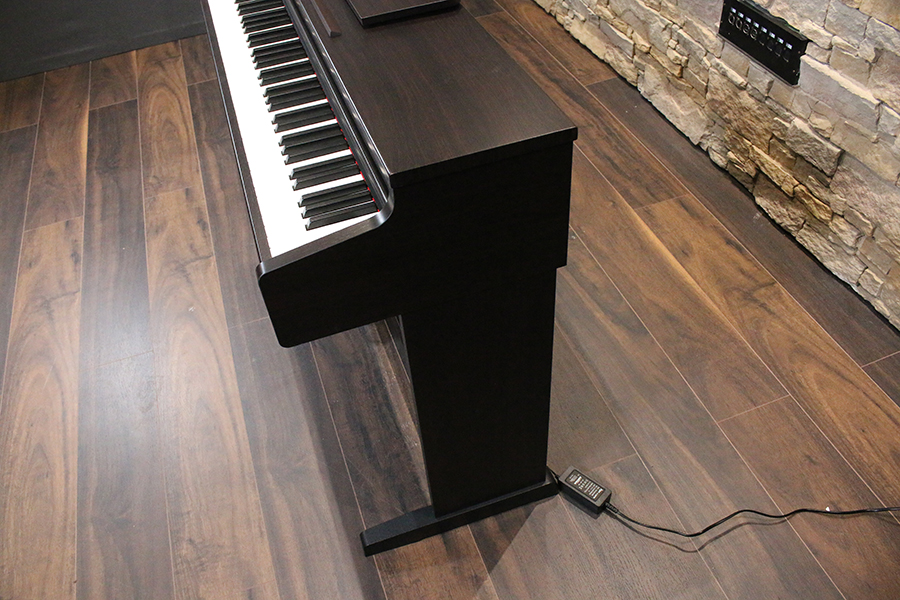 Dimensions
Width 137.5cm
Depth 40.5cm
Height 84cm
Weight 41kg
Speakers
Output: 40 watts total (2 x 20 watt internal speakers)
USB connection
MIDI interface
Audio interface (48KHz, 24bit)
USB 2.0 compatibility
PC, Mac, iOS, Android
Functions
2 track recorder and 3 x songs
Layer
Split
Twin piano
Master tune
Master key transpose
Touch control
Metronome
1 x headphone jack
1 x 3.5mm jack
USB to host (USB type B)
Stereo audio out – stereo 3.5mm
Stereo audio in (MP3 in) – stereo 3.5mm
Included:
Wooden stand and 3 pedals
Free piano stool and headphones (total value £130)
2 year home warranty
Music rest
AC power adaptor
Owner's manual/User manual in English
Assembly instructions
Safety
All Broadway pianos meet the required safety standards: CE, UL and FCC.
Broadway Say…
The Tone Quality of the ROS V.6 Plus (Real Orchestra Sound Version 6+)
The ROS V.6 Plus sound source combines Broadway's innovative and unique sampling technology with the sound of the finest European concert grand piano to produce its refreshingly new sound.
Due to the sampling technology, The sound of the Broadway BW1 is deep and resonating. It employs a large-capacity Multi Layered Full Scale Sound to offer its two distinguished grand piano voices. One button click is all that takes to pick your choice that suits your music.
These quality grand piano voices could serve many kinds of musical interests, supporting high-capacity memory and diverse expression.
The abundant sound of a digital piano requires a memory space that is large enough to contain the high-resolution samples. It supports a total of 8Gb of memory in order to store all its large-sized Multi Layered Full Scale Sound and Multi Layered Sound sources.
This Full Scale Sound, with its extremely huge data size, assigns separate sample data to each portion of dynamic range which is divided into many levels, allowing natural expression of forte and piano.
With a wide selection of grand piano voices, all genres and styles ranging from 18th century Baroque to contemporary music are fully covered.
When a grand piano is played it produces a variety of different sounds that are not directly resulting from the keystroke – the product of various resonance phenomenon (harmonics).
Each harmonic is captured into its digital pianos in order to provide a more authentic piano-playing experience.
This feature, called the Acoustic Simulator, allows to closely emulate the characteristics of acoustic piano sounds.
String resonance, damper resonance, damper samples and key-off sounds are all included in the samples as to bring the sensational experience of hearing the sound of a concert grand in a resonance-optimized concert hall.
The string resonance emulates the vibrations of sympathetic strings that occur when playing a grand piano.
While a note is being held down, playing an additional note whose frequency is a multiple of the first one causes all strings sympathetic with that overtone series to vibrate. This resonance effect is applied to the sounds so that the authentic grand piano sound is replicated allowing for fully resonant harmony
The damper resonance refers to the particular resonance effect that takes place when using the damper pedal.
When the pedal is pressed all dampers inside the piano are lifted from the strings, and it is the sound resulting from the interaction between notes and dampers that is sampled.
Differing effects are provided depending on the depth the pedal is pressed.
Also, the damper samples capture the natural vibrations of all free strings except the ones played, with the dampers raised above the strings.
The Key-off sound emulates the subtle sound that occurs as a key is released. It recreates the sound of dampers falling back onto their respective strings as the pianist releases his or her hand off the keys, allowing for a more realistic playing performance.
This in-depth resonance and other subtle components of piano sound, along with Broadway's brand new enhanced keyboards, are designed to provide natural playing experience, embellished with all-natural touch, response and sound.
256 Maximum Polyphony
A larger number of maximum polyphony allows a digital piano to play more notes simultaneously without running out of handling capacity which causes loss of earlier notes.
The Broadway BW1 supports a maximum 256 notes of polyphony, which is enough to fully support the performance by professional pianist
Equalizer System for Customizing
The equalizer system divides the full frequency range of piano sounds into four levels consisting of high (~2.6KHz), middle-high (~1KHz), middle-low (~300Hz) and low (~115Hz), and allows to adjust the volume of each frequency range independently.
8 types of pre-set EQ is included, as well as the option to fully customize your own frequency-volume settings, and you are free to perform with the sound of your choice.
SRP £999
More details on this page: https://www.ukpianos.co.uk/product/broadway-bw1/
The post Broadway BW1 Digital Piano Review appeared first on Music Instrument News.
Source: musicinstrumentnews.co.uk