Champion Woodwind & Brass Accessories launch Premium Fully Synthetic Valve & Rotor Oils
British brass and woodwind accessory brand Champion are pleased to announce the launch of their new premium fully synthetic valve and rotor oils, expanding on their range of instrument care products.
Led by brass specialists, the new range has been developed and made in the UK. The Champion Premium Fully Synthetic 'Light' Valve & Rotor Oil is designed specifically to lubricate the valves of trumpets, cornets and other brass instruments and is also perfect for use on rotary valves. The Premium 'Regular' oil is for use on larger brass instruments such as euphonium or tuba, or older vintage valved instruments.
The two viscosities available enables a player to fine-tune the care of their instrument with premium fully synthetic and odourless oils. Applying a few drops of the long-lasting oil formula ensures pistons and rotors are slick and remain in an optimal playing condition, performing at their best every time.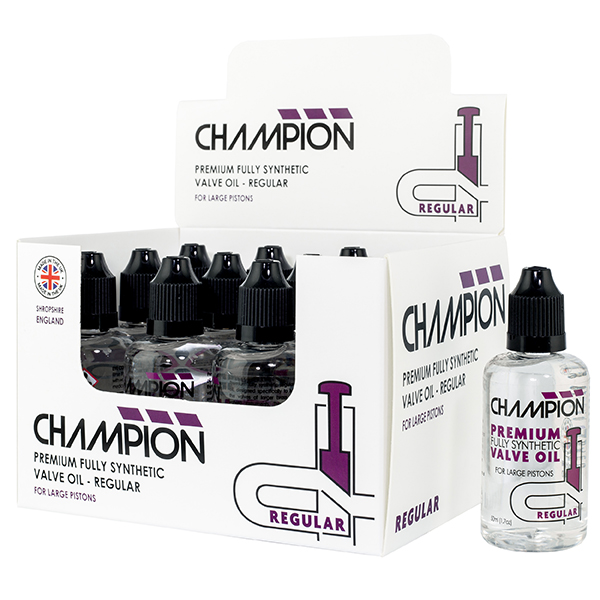 The convenient 50ml bottle features a thin applicator nozzle and child-safe cap which is safety compliant with all UK, EU and International Safety Standards.
As part of Champion and Barnes & Mullins' commitment to reducing their environmental impact in a practical and sustainable way, the display boxes are produced in a carbon balanced factory using carbon balanced material.
With a retail price of £9.95, the Champion Premium Fully Synthetic Valve Oils are now available to order through UK Distributors and Exporters Barnes & Mullins, and can also be supplied in master cases of 12 bottles, complete with a counter-top retail display box for presenting to customers instore. 
www.bandm.co.uk
The post Champion Woodwind & Brass Accessories launch Premium Fully Synthetic Valve & Rotor Oils appeared first on Music Instrument News.
Source: musicinstrumentnews.co.uk