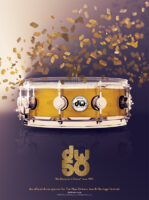 DW & LP Named New Orleans Jazz & Heritage Festival Official Drums
Drum Workshop, Inc. (DW) in conjunction with Latin Percussion (LP) are delighted to be gear support sponsors for the New Orleans Jazz & Heritage Festival (Jazz Fest) 2022. 
Jazz Fest takes place over two weekends, 29th April to 1st May and 5th to 8th May 2022, at the Fair Grounds Race Course in New Orleans, LA. The first-ever concert event was held in 1970 in Congo Square New Orleans, the open area space where enslaved African Americans gathered on Sundays in the early 1880s to create sounds that ultimately influenced all American Music. The inaugural event, featuring legendary artists such as Fats Domino and Duke Ellington had a modest audience of hundreds. Today the event is one of the nation's largest spectaculars with an annual attendance of over half a million.
Over the half century, many globally renowned artists have played DW and LP instruments at the festival, with this year being no exception. Announced acts include The Who (Zak Starkey), Stevie Nicks (Drew Hester), Death Cab for Cutie (Jason McGerr), Jimmy Buffett (Roger Guth), Elvis Costello (Peter Thomas), Trombone Shorty (Joey Peebles/Weedie Braimah), Galactic (Stanton Moore/Anjelika 'Jelly' Joseph), The Avett Brothers (Mike Marsh), Chris Isaak (Raphael Padilla), Antonio Sánchez, Boz Scaggs (Branlie Mejias), Erykah Badu (Frank Moka) and many others!!
Founded in 1972 and celebrating 50th Anniversary as the Drummer's Choice, DW is world renowned for its award-winning custom drums, pedals, hardware, and accessories. The company's industry-standard products are widely regarded for studio-friendly sound, build quality and road-proven performance. 
Since the 1960s LP has grown to be the best-selling percussion instrument brand available today. The world's top professionals choose Latin Percussion instruments for their authenticity and innovation. 
"The rich heritages of DW, LP and the Jazz Fest fit together perfectly," said Juels Thomas (Education & Events Manager for DW Brands). "We're proud to help support both the wealth of musical talent that the Fest showcases and the amazing krewe behind the scenes." Festival Executive Director Stage Production Reginald Toussaint commented, "We would like to welcome DW Drums to The New Orleans Jazz & Heritage Festival and we look forward to a long-lasting relationship."
To find out more about Jazz Fest please visit www.nojazzfest.com.
To find out more about DW and its products please go to www.dwdrums.com.
To find out more about LP please go to www.lpmusic.com
The post DW & LP Named New Orleans Jazz & Heritage Festival Official Drums appeared first on Music Instrument News.
Source: musicinstrumentnews.co.uk