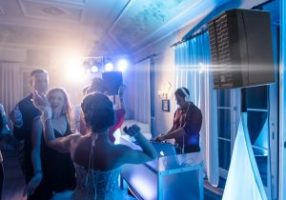 HK Audio Lucas K2
HK Audio introduces the ultimate PA for mobile DJs: LUCAS 2K
HK Audio has unveiled LUCAS 2K, a new compact PA optimized for mobile DJs.
The active 2.1 stereo LUCAS 2K is set to become the new companion of choice for on-the-go events like weddings, galas, and parties. There are two models available: LUCAS 2K15 features a 15" wooden bass reflex subwoofer, while LUCAS 2K18 comes with an 18" sub to offer even more low-end. Both systems are completed by a pair of 8"/1" satellites.
Designed, engineered and built in Germany, LUCAS 2K features premium-quality components, a newly developed 2,000-watt power amplifier and advanced DSP technology. All this allows DJs to strike the perfect balance between soothing background music, crisp and articulate speech reinforcement, and huge, dancefloor-filling beats with ease.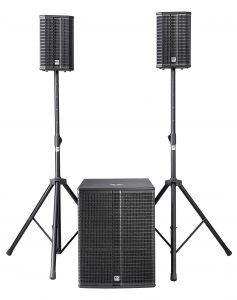 Peak power: 2,000 watts (calc.)
Optimized for mobile DJ applications
Powerful, active 2.1 stereo PA system
Advanced DSP technology
Available in two models: LUCAS 2K15 and LUCAS 2K18
Made in Germany
LUCAS 2K's painstakingly-tuned filters ensure it works equally well with all kinds of signal sources, and the systems can easily be scaled up when even more bass is required using the LINEAR SUB 1500 A (LUCAS 2K15) and LINEAR SUB 1800 A (LUCAS 2K18) subwoofers.
Practical features like HK Audio's ingenious MultiGrip recessed handles and M20 speaker pole mounts make handling LUCAS 2K extremely simple and convenient – the 53 kg LUCAS 2K15 system can even be transported and set up by just one person – while MonoTilt technology allows the DJ to precisely angle the satellites towards the audience. A range of practical accessories like Speaker Stand Add-ons, Roller Bags and Speaker Stand Stretch Covers mean LUCAS 2K is ready for any occasion.
Rüdiger Forse, HK Audio's Senior Product Manager, said: "Back in 1998, a new PA category was born when HK Audio invented the original Lightweight Ultra Compact Active System – in short, LUCAS. In Europe, LUCAS quickly became the top choice for entertainers, and over the years it has become a synonym for powered 2.1 systems."
"Now, in 2017, LUCAS 2K brings about an improvement to all aspects of the LUCAS experience: easy transport, plug and play setup, a whole new stunning look, and the most electrifying stereo sound performance we have ever designed for a LUCAS. It is the compact PA mobile DJs all over the world have been asking for. Simply the easiest way to get the party started… and keep it going in style! Add in the made in Germany quality and you've got the PA that will soon be the heartbeat of the 21st century mobile DJ everywhere."
Source: www.algambenelux.be