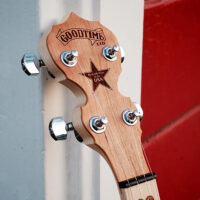 Introducing the Goodtime Cherry Limited Edition Banjo!
The Goodtime Cherry Limited Edition 5-String Banjo is a limited release of their best-selling Goodtime model. Only 100 will be made and will be available from one of 40 Deering dealers worldwide!
The rim is a 3 ply cherry/maple/cherry rim that projects a very crisp and clear tone. When paired with the Remo Skyntone head you get a beautiful balance of warmth and clarity. The blonde maple fingerboard features classic hardwood Artisan-style inlays, while the peghead features a beautiful cherry veneer and a "Goodtime LTD" banner logo.
The Limited Edition Goodtime Cherry is limited to 100 banjos and also features a nickel-plated Goodtime banjo armrest. These will only be available through your Deering Dealer for a short time.
About the Goodtime Banjo
Easy to play! Durable and easy to maintain! The Goodtime banjo produces a vibrant ringing tone from its natural finished violin-grade maple rim.  At only 4 pounds, the weight makes it ideal for both children and adults to play and to travel with conveniently.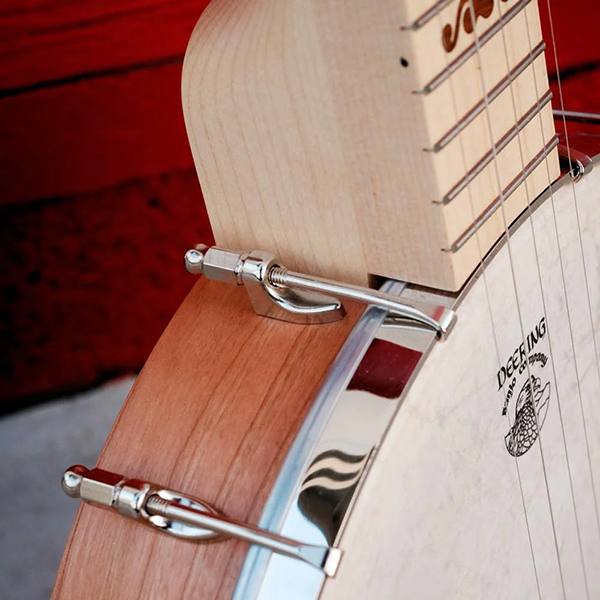 Teachers and professionals worldwide recommend the Goodtime banjo for greater success in learning to play.
Specifications neck:
Neck Wood: Rock Maple
Neck Shape: Comfortable "D" Shape
Stain: N/A
Finish: Satin
Nut Width: 1 1/4″
Nut Material: Lexan Polycarbonate
Tuners: Sealed Geared Tuners
5th String Tuner: Goodtime Geared 5th String Tuner
Frets: 22 Pressed In Nickel Silver Frets
Specifications pot
Rim: 3-Ply Cherry / Maple / Cherry
Rim Diameter: 11″
Tone Ring: N/A
Head: 11″ Remo Skin Tone High Crown
Tension Hoop: Beveled Steel Tension Hoop
Hooks & Nuts: 16 Flat J-Hooks with 9/32″ Nuts
Armrest: Goodtime Armrest
Hardware Plating: Nickel
Tailpiece: Deering Patented Goodtime Tailpiece
Finish: Hand Rubbed Polyurethane with Carnuba Wax Finish
Specifications dimensions
Neck Width at the Nut: 1 1/4″
Scale Length Nut to Bridge: 26 1/4″
Rim Diameter: 11″
Overall Instrument Length: 37 1/2″
Weight Approx.: 4.5 lbs
Strings & Tuning
Comes strung with Deering Light Gauge Strings
String gauges: 10, 11, 13, 21w, 10
Comes tuned: G, D, G, B, D
Can easily be tuned in other tunings as well.
$799.00
www.deeringbanjos.com
The post Introducing the Goodtime Cherry Limited Edition Banjo! appeared first on Music Instrument News.
Source: musicinstrumentnews.co.uk