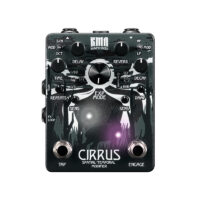 KMA Machines Launches Cirrus SHADOW Reverb and Delay
KMA have dressed up their little soundscape helper pedal – the top selling Cirrus – into a special monochrome finish, so you can send your sonic palate right into the stratosphere with style!
"Filled with deep delays, atmospheric reverbs and dynamically evolving modulation, Cirrus SHADOW will transform every note you play into a true and totally ubiquitous sound delivery that will even transcend the space between the stars, perfect for those dreamy summer nights". KMA
Only 150 units of the Cirrus SHADOW – Spatial Temporal Modifier will be made available worldwide in this limited dark and moody colourway. So, if you want something sonically mesmerising that's even more visually striking to grace your board, then now is your chance!
Limited SHADOW edition of KMA's creative and inspiring Delay and Reverb pedal
Multiple and extensive independent modulation features:
Reverb – Modulation, Low-pass and High-pass Filters
Delay – S/H, Modulation and Octave
Reverb/Delay position order switch and individual mix controls
Tap Tempo with additional momentary switch options
Expression input – allows selectable foot control of most Reverb and Delay tone shaping functions
FX Loop – add additional pedals within the signal chain for a world of other spatial tones
Made in Germany
Powered by regular 9 V DC PSU
(centre -, 2.1 mm, 220 mA current draw)
Cirrus SHADOW is a truly special and versatile, dynamically modulated combined Delay and Reverb pedal that will forever change your perception of time and space. Made up of a Delay side and a Reverb side, both sides of Cirrus SHADOW sport the most important basic controls such as Time (up to 1.5 sec). Repeats for the Delay and Decay and Damp for the Reverb. Plus, each side has its own mix control as well.
This little Spatial-Temporal Modifier gives you three different Delay AND Reverb modes, which all sport a special dynamic feature that is controlled by your picking attack. This enables you to create amazing sounds, along with being able to set the sensitivity of how the sound reacts; every section has its own sensitivity control.
The different Delay and Reverb modes cover vastly different modulated areas.
Modulated Delay Mode (MOD) fluctuates the Delay signal for a dynamic dancing tape echo-inspired modulation that'll deliver everything from subtle sways, to crazy pitch-bends. The Sample & Hold Mode (S/H) adds a sequencer-like filter in front of the Delay line, perfect for synthy textures. Play softly for subtle filter action or hit it hard for more pronounced electro-vibes. The third Delay Mode (OCT) blends in a high octave as your notes decay for unique shimmery dimensions.
Over to the Reverb section, Modulated Reverb Mode (MOD) will decorate your trails with silky smooth movement, whereas the two other Modes deliver either an opening Low-pass Filter (LP) or a closing High-pass Filter (HP). The harder you pick the more the Low-pass will open up and bring in those shimmering highs. Contrary to that, the closing High-pass will cut your lower frequencies when picking harder which will create cool lo-fi textures.
"A big part of creating a signature sound comes from your pedal order and we know that a lot of you like to get creative there. Well, the Cirrus obliges! Set the Order Toggle to "Reverb" to run the Delay into the Reverb or flip it to "Delay" to switch it the other way – either direction will give you worlds of inspired soundscapes. You even get another Toggle Switch to set the Delay Tap subdivision, so you can get the right rhythms rolling fast".
"Now, on to the footswitches – Tap-Tempo on the left (neat!) and the much-needed Bypass Switch on the right (classic!). But wait, we actually made these stompers cool – the humble Bypass and Tap-Tempo Switches are suddenly full of additional creative secrets!" KMA.
Besides the standard latching mode, the Bypass Switch offers some cool, yet creative and simple to use options. When the pedal is off, you can engage the pedal momentarily by holding the Switch down for sudden bursts of ambience. When the pedal is on though, holding down the Switch maxes out the Decay, jumping you straight into infinite reverb. You can also hold down the Tap-Tempo Switch to max out the repeats for infinite echoes. Plus, you can even hold down BOTH at the same time to enter an endless cascading dream state!
KMA have also equipped Cirrus SHADOW with an Expression Pedal input (standard TRS connection) and a Selector Switch, giving you complete hands-free control over whatever key parameter of Cirrus you want. In addition, an internal switch can turn the Reverb and Delay trails on or off to taste, plus the individual Reverb and Delay mix controls help to tailor your sound exactly as you see fit.
As the final piece of the tonal puzzle, KMA have added a Serial FX-Loop, letting you put any pedal in front of the Delay/Reverb line, to further flavour your own signature sound.
EUR ERP: 199 €
GBP ERP: £179
AUD MSRP: $399
Available from www.audiodistributiongroup.com
www.kma-machines.com
The post KMA Machines Launches Cirrus SHADOW Reverb and Delay appeared first on Music Instrument News.
Source: musicinstrumentnews.co.uk