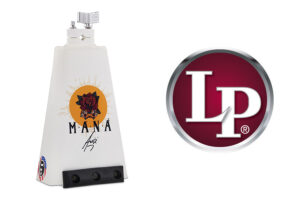 Latin Percussion Launches The Alex González Signature Cowbell
Latin Percussion (LP) is delighted to partner with Maná drummer Alex Gonzalez to introduce our newest cowbell to its range of world class percussion instruments.  Made in the USA, the Alex González Signature Cowbell is an 8" mountable cowbell with a rich cutting sound, that is low pitched and moderately dry.
Alex and his band Maná created a revolución in music by becoming the most successful Latin-American band of all time, winning multiple Grammy, Latin Grammy and Billboard Latin Music awards. The versatile drummer deftly manipulates the many stylistic changes in the band's sound, elegantly switching between energetic reggae grooves and hard hitting rock anthems.
The LP Rock Ridge Rider cowbell has been a part of Alex's arsenal from the very beginning and we are honored to work with him to create the Alex González Signature Cowbell, an instrument that truly reflects his personal sound. The collaboration resulted in a distinctive cowbell that is embellished with a striking rose graphic synonymous with Maná and familiar to fans all over the world. The rose artwork is embedded into the metal using LP's proprietary process to deliver long lasting, great looks.
The bell is loud and rock ready. The high impact ridge offers just the right overtones, making it perfect for both studio and stage. The patented Jenigor bar dampens sound and resists denting giving the instrument a long-playing life. The patented LP®  Vise-Clamp tightly grips 3/8" to 1/2" diameter arms, making it a go to bell for heavy hitters.
"This Cowbell is just awesome!!!" Says Alex Gonzalez. "I've been playing LP since 1984 ,and to this day their instruments are such and important part of my sound. This cowbell represents and celebrates the history I've had playing LP and I'm so honored that LP made this happen!!  I hope MANÁ fans all over the world will love this cowbell as much as I do!  Viva LP!  Viva MANÁ!"
To find out more about the Alex González Signature Cowbell, plus all the other Latin Percussion products, please go to lpmusic.com/ #wearerhythm

The post Latin Percussion Launches The Alex González Signature Cowbell appeared first on Music Instrument News.
Source: musicinstrumentnews.co.uk