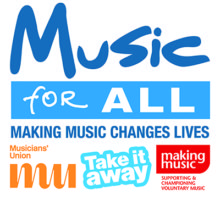 Learn To Play Day(s) set for 2018
Music For all, the charity that organises Learn To Play Day, has announced the dates for next year's event: Saturday 17th & Sunday 18th March 2018.
The 2017 event saw more than 12,000 free instrument 'taster' lessons delivered at a range of venues including music shops, schools, studios and churches throughout the UK but 2018 promises to be bigger and better. Full details of the event, including participating venues and local appearances, will be found at www.learntoplayday.com and www.facebook.com/learntoplayday over the coming months.
Info: www.musicforall.org.uk
The post Learn To Play Day(s) set for 2018 appeared first on Music Instrument News.
Source: musicinstrumentnews.co.uk