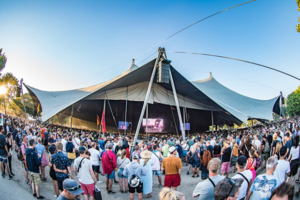 Meyer Sound employs AVB Networks as signal backbone for Roskilde Festival
AVB builds a signal backbone for Meyer Sounds at Roskilde Festival 2018 in Denmark
AVB Networks was recruited by Meyer Sound to build a new backbone for three stages at Roskilde Festival in Denmark this year.
This was the first time the technology has been used to interconnect Meyer Sound's GALAXY network platforms for a European rock festival.
The fibre optic networks were configured for two of the event's main stages, Orange and Arena, applying the latest Luminex GigaCore 10 switches, while the third stage known as Pavilion, employed switches by Extreme Networks.
The use of AVB networks at Roskilde reduced set-up time and simplified system configuration, compared to multiple analogue or AES3 digital streams. The networks also carried data for real-time system monitoring using RMServers, as well as linking audio signals for the GALAXY processors.
Meyer Sound's veteran director of system optimisation, Bob McCarthy, said: "We had zero issues with the networks over four days of continuous shows."
He added: "I understand that the Luminex switches are very cost effective, much more so than the few others now available. I think this will help bring costs down across the board, so that AVB networks will be cost-competitive with Dante-based networks while offering significant technical and performance advantages."
At the Orange Stage, a number of 18 AVB-networked GALAXY processors were configured to drive 263 Meyer Sound LEO Family loudspeakers, including LEO, LYON and LEOPARD line arrays as well as 1100-LFC and 900-LFC low frequency control elements. Headliners at the Orange Stage were, Eminem, Bruno Mars and Nick Cave.
The eight GALAXY processors networked at the Arena Stage served a 143-loudspeaker LEO Family system with the LYON, LEOPARD and LINA line arrays bolstered by 1100-LFC low frequency control elements. Acts lined up on this stage included Nine Inch Nails, Fleet Foxes and David Byrne.
Four networked GALAXY processors linked a 58-loudspeaker system based around LEOPARD and LINA line arrays at the Pavilion Stage, with international artists such as, Oh Sees, Myrkur and Sacred Paws performing.
The long term partnership agreement between Meyer Sound and festival management meant Meyer Sound systems would be deployed at all three stages at Roskilde for the first time.
Scandinavia's leading supplier of large-scale event technologies, Bright Group, supplied all systems.
Source: mi-pro.co.uk