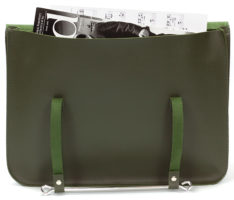 New Montford music cases from Barnes & Mullins
Barnes & Mullins has announced the arrival of a new range of Montford music cases aimed at students and professional musicians alike.
Available in six classic colours, B&M says Montford music cases are manufactured from high-quality leatherette with an embossed, original Montford crest on the front opening flap.
'Their strong and durable design is ideal for protecting important A4 sized sheet music and other music books when travelling, while soft-touch materials and a high-quality carry handle ensure they are comfortable as well as stylish. The traditional design closing straps and bar guarantee the music cases remain closed while being carried'.
Retailing at £19.95, Montford music cases are available to order now in green, blue, red, brown, tan and black colour options exclusively from Barnes & Mullins
Info: www.bandm.co.uk
The post New Montford music cases from Barnes & Mullins appeared first on Music Instrument News.
Source: musicinstrumentnews.co.uk