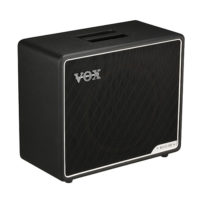 New Vox amps takes Nutube to next level
Vox has taken Korg's innovative Nutube technology a major stage further in its new 150 Watt MVX150H/MVX150C1 amplifiers, due to be unveiled next week at NAMM 2018.
Two years on from the launch of Nutube, which has previously been used in Vox's MV range of small amp heads and some instruments, the device is now being used in both the pre and power amp stages of the new Vox amps, where it had featured in pre-amps only, making the newcomer closer still to a full blown traditional valve amp.
The two-channel design, which comes in head (MVX150H ) and combo (MVX150C1) versions, features useful functionality such as a WET ONLY output for the on-board reverb and effects send/return. Additionally, the combo-type MVX150C1 specially features a UK-made Celestion Redback speaker that covers a broad range of frequencies and can handle the high output of the MVX150, Vox says.
While the combo version is taken care of by its onboard speaker, Vox is also launching a matching cab for the head, the BC112-150.
Final prices have yet to be determined but Vox has helpfully provided an estimate for when they become available, in April this year. The MVX150H Head is expected to have an SSP circa £649.00, MVX150C Combo SSP circa £849.00 and the BC112-150 Cab expected SSP circa £349.00,
Info: www.voxamps.co.uk
The post New Vox amps takes Nutube to next level appeared first on Music Instrument News.
Source: musicinstrumentnews.co.uk