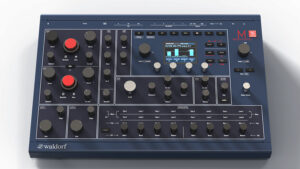 Waldorf M with 16 voices
Waldorf Music has responded to the many requests of the community and finally made it true: Waldorf M in a special edition with 16 voices.
M's musical heart is now an 16-voice polyphonic, four-part multitimbral WAVETABLE SYNTHESIZER — as boldly blazoned in red across its full-metal blue- coloured casing, itself hinting at its illustrious Microwave heritage — are two wavetable oscillators with independent wavetable-generating Classic Microwave 1 and Modern Microwave II/XT modes, meaning that the wavetable oscillators behave differently in both of those modes (accessible by pressing the Mode button beside the helpful high-resolution graphic display with four endless encoders for yet more hands-on control).
For customers who already own an 8-voice M, Waldorf Music offers the possibility to buy 8 additional voices. The M Voice Expansion V0.6 costs SRP 699,00 € (incl. German VAT)
Product details Waldorf Music M 16Voice
EAN: 4260126381032
SRP: 2.308,00 € (incl. German VAT)
Waldorf M backpack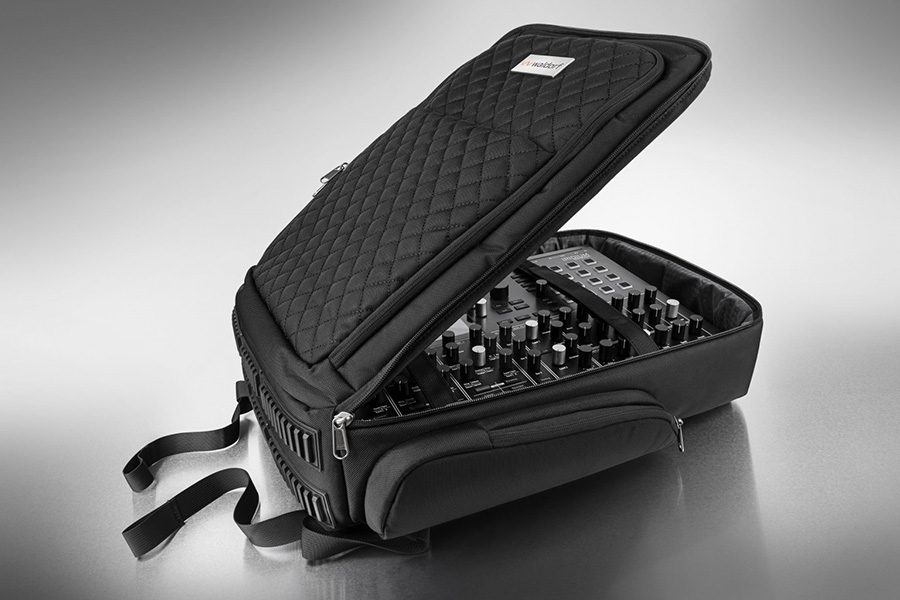 Waldorf Music has a first merchandise product "Waldorf Backpack" for Iridium Desktop, M and Kyra. Its available with the former or new logo.
SRP: 135,00 € (incl. German VAT)
About Waldorf Music
The well-known Waldorf Music brand has been synonymous with high-quality synthesizers for over 30 years; indeed, its innovative position in the electronic musical instruments marketplace dates back to 1989 with the release of the wavetable synthesis-based Microwave, an amazing 'reincarnation' of the legendary PPG Wave series — arguably amongst the most coveted high-end synthesizers of the early Eighties — that was instrumental in providing some called-for counterbalance to the dominance of Japanese and American designs.While Waldorf continued this unique technology tradition with successive synthesizer releases ranging from the mighty Wave — perhaps the most impressive, expressive, and user-friendly sound synthesis tool ever built — to raising the bar for VA (Virtual Analogue) synthesizers with the introduction of the popular Q series from 1999 onwards, the new millennium saw the trailblazing company making a timely move into the brave new world of music software with the release of its first VST Instrument, PPG Wave 2.V, a tradition it continues to this day with more recent software releases including its Nave advanced wavetable synthesizer. Subsequent successes in the high-quality hardware arena include the Blofeld synthesizer — forging sound and design into an unbeatable price/performance ratio in both desktop and keyboard versions — and Zarenbourg, a contemporary electric piano par excellence, as well as the cost-conscious Rocket (synthesizer), 2-Pole (analogue filter), and Streichfett (string synthesizer) desktop modules. Meanwhile, Waldorf broadened its appeal further still by introducing Nave to transform any iPad into an advanced wavetable synthesizer. Fast-forwarding to today sees the high-quality synthesizer manufacturer musically returning to its roots with M, bringing back classic Microwave and 'modern' Microwave II tone generation as a new-generation classic hybrid wavetable synthesizer complimenting a slew of contemporary high-quality synthesizers taking the well-known name into the hands-on musical masses — whether working with its (flagship) Quantum high-class hybrid or (polyphonic aftertouch pressure-providing) Iridium digital synthesizer keyboards, (FPGA-based) Kyra and Iridium digital desktop synthesizers, or other hardware (including a welcomed move into the ever-expanding Eurorack modular synth system format) or software (including iOS).
The post Waldorf M with 16 voices appeared first on Music Instrument News.
Source: musicinstrumentnews.co.uk