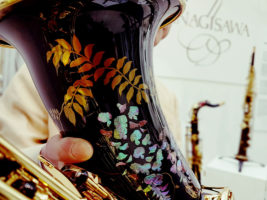 Yanagisawa features 6000 year old engraving style
Yanagisawa showcased its expert instrument-making talents at this year's Musikmesse with the presentation of four stunning, one-off 'Urushi' saxophones.
The unique Tenor, Alto, Baritone and Soprano models feature traditional floral engravings and decorations created using Japanese Urushi lacquering techniques dating back to the Jomon period between 14000-300BC. Sourced from the sap of the native Japanese Urushi tree, Urushi acts as an adhesive as well as a lacquer and has been used for centuries throughout Japanese artist culture.
Originating from the Japanese words 'uruwashi' or 'urumu', meaning 'fresh and vibrant gloss', the treatment of each of the four Yanagisawa Saxophones has resulted in just that – a set of handcrafted instruments that display stunning, detailed imagery with a stunning, lustrous gloss.
Created in collaboration with Urushi artist Yurie Akaiwa, the aim of the project was to explore the possibilities of using the saxophone as a musical canvas for portraying themes from the Japanese natural world. As a result of the unique Urushi technique, each saxophone has taken on its very own distinctive voice with a mellow tone, says UK distributor B&M.
All four models have been expertly crafted using a mix of traditional Urushi techniques known as 'urauchi, 'hira makie', 'hirame nashiji' and 'chinkin' – each with their own set of detailed technical processes. For example, the Alto model used the Hirame Nashiji technique of mixing two types of gold powder onto the body before repeatedly layering with translucent Urushi lacquer. This process resulted in the star-scape finish.
Leading technician Akihiro Ueno mastered the meticulous chinkin technique using fine chisels to achieve the gold and bronze dianthus and pampas grass engravings seen on the "Hint of Fall" Soprano sax. Ueno states: 'In order to maintain the performance of the instrument a thinner lacquer was required than is normal for this technique. We had to take into account that lacquer continues to gradually harden after it has been applied. A thinner lacquer left to harden for up to six months created the best conditions for chinkin.'
The saxophone keys were painstakingly removed and the instruments separated into component parts, then rotated while specially designed equipment distributed the Urushi lacquer evenly across the surface. The materials were repeatedly heated by infrared radiation at 120 °C in order for the fine Urushi lacquer to adhere as required.
The four saxophones are not for sale, but will travel to exhibitions and art events around the world throughout 2017/18.
Info: www.yanagisawasaxophones.co.uk/news/item/261-yanagisawa-saxophones-bring-6000-year-urushi-history-to-life
The post Yanagisawa features 6000 year old engraving style appeared first on Music Instrument News.
Source: musicinstrumentnews.co.uk