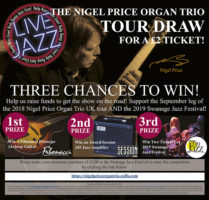 Fibonacci backs live Jazz with prize draw
Specialist archtop guitar maker Fibonacci is getting behind live Jazz with a prize draw designed to raise funds to help the September leg of the Nigel Price Organ Trio's tour in the UK, and also support the 2019 Swanage Jazz Festival.
Participants are being offered £2 tickets to enter the draw, with impressive prizes comprising a top level prototype arch top jazz guitar built by Fibonacci, a Session jazz amplifier – modified to Nigel's own specifications – and a pair of tickets for the 2019 Swanage Jazz Festival, which will run between July 12th and July 14th.
Fibonacci says The Nigel Price Organ Trio, winners of the 2017 'Best Small Group' in the 2017 British Jazz Awards, have long been torch bearers for the live jazz touring circuit in the UK. 'They have undoubtedly set the bar high when it comes to the challenge of keeping the touring routes alive, blazing an optimistic trail and leaving the path clear for others to do the same. This is their eighth national tour.
'Without preserving the ability for artists to tour, to have the infrastructure in which to share art, music and culture we would all be consigned to a life less enriched.
'It is literally impossible to tour without funding. That's just the way it is here. The cost of accommodation and fuel alone makes sure of that. We have systems for this but since the demise of Jazz Services it is much harder, and applications for support have to be made direct to the Arts Council. This is highly competitive.
'Nigel's bid for Arts Council funding for the 2018 tour was unsuccessful. He's had to make a smaller resubmission but that's meant having to leave these sixteen September dates off. Getting these dates in the diary in the first place is nothing short of gruelling, so to kiss them goodbye would be gutting. This is the most far reaching section of the wider tour and it would be such a shame not to be able to reach the jazz fans in Scotland, Cornwall and many places in between, so in order for him to carry out this good work: educating, supporting, performing and preserving our great tradition of jazz he's going to need a bit of financial help'.
The trio will be joined by the tenor saxophonist Vasilis Xenopoulos on all of these dates.
Fibonacci adds that the tour costs a total of £5000 for the 16 dates. Any funds over and above this total will be donated to the Swanage Jazz Festival, to help safeguard it's future in 2019 and beyond.
Tour Dates September 2018
Sat 8th THE HIVE, SHREWSBURY
Sun 9th HEN AND CHICKEN, BRISTOL
Mon 10th TAMWORTH JAZZ CLUB
Tue 11th BRECON JAZZ CLUB
Wed 12th STRATFORD JAZZ
Thu 13th HOT NUMBERS, CAMBRIDGE
Fri 14th RONNIE SCOTT'S, LONDON
Sat 15th RONNIE SCOTT'S, LONDON
Tue 18th FLEET JAZZ CLUB
Sat 22nd SHIP THEATRE, SEVENOAKS
Tue 25th CINNAMON CLUB, ALTRINCHAM
Wed 26th EYEMOUTH HIPPODROME
Thu 27th BLUE LAMP, ABERDEEN, SCOTLAND
Fri 28th LODGE AT LOCHSIDE, KIRRIEMUIR, SCOTLAND
Sat 29th CALLANDER JAZZ & BLUES FESTIVAL , SCOTLAND
Sun 30th SCARBOROUGH JAZZ FESTIVAL
Tickets can be purchased for £2.00 each (maximum is 50 tickets per person) from https://nigelpriceorgantrio.zaffo.com
Info: https://www.fibonacciguitars.com
The post Fibonacci backs live Jazz with prize draw appeared first on Music Instrument News.
Source: musicinstrumentnews.co.uk