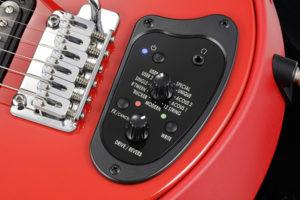 Vox updates Starstream modelling guitars
Vox's Starstream Type 1 Plus Mahogany is an update to the maker's Starstream line-up, offering new models and a brand new passive mode.
The models come courtesy of Vox's X AREOS-D modelling system, which the manufacturer says provides an even more expressive performance experience. The new, true passive mode allows for standard electric guitar performance, without the need for battery power.
Incorporating the AREOS-D system, the Starstream Type 1 Plus Mahogany integrates several elements: magnetic pickups for authentic electric guitar models; a piezo pickup system for traditional instruments; a powerful DSP engine; familiar volume, tone and pickup selector controls and a Control Module that provides instant access to key parameters.
Key features include:
New Passive Mode for standard electric guitar performance. Battery power is not necessary in this mode. Volume, Tone and Pickup Selector controls function normally in this mode.
Nine banks of instruments with three variations in each plus two user banks to store up to six favourites.
Five banks with classic and modern electric single coil and humbucking sounds, updated to take advantage of the resonant mahogany body wood, plus three variations of electric 12-string.
Two acoustic banks featuring six different guitars including small body, large body, 12-string and nylon string instruments.
Banjo, sitar and resonator models make up the Unique bank.
The Special bank holds two synthesiser variations, Synth and Bass Synth and a Sustain mode that produces a distinctive organ-like effect (depth of the Sustain mode's vibrato effect is controlled by the Tone control). For Synth, users can control both Decay and Attack parameters at once using the Tone knob. Using the Tone control, both Envelope and Resonance parameters are adjusted simultaneously for Bass Synth.
Onboard Drive and Reverb (model dependent) control for real-time adjustments to amount of gain or reverb depth. Depending on the model selected, either Drive or Reverb can be stored in a user bank, set to on or off.
FX push-button with an LED for instantaneous on/off switching of Reverb or Drive effect, depending on model selected.
Synth sounds track effortlessly and respond dynamically to touch, pick attack and vibrato.
Simple, intuitive volume, tone and three-way model variation selector controls make changes quick and easy.
1/4″ output for live performance or recording and 1/8″ output for use with headphones for private listening and practice.
22 fret bolt-on hard maple neck with Blackwood Tek Sustainable Wood Composite fingerboard with 12″ radius.
Sculpted mahogany body;2 x XLM humbucking pickups; 2-point fulcrum vibrato; Sealed diecast tuning machines.
Starstream Type 1 Plus Mahogany is available in three colour options
The expected SSP will be around £699.00 inc VAT when they become available which is estimated to be Jun-Aug 2018.
Info: www.voxamps.co.uk
The post Vox updates Starstream modelling guitars appeared first on Music Instrument News.
Source: musicinstrumentnews.co.uk