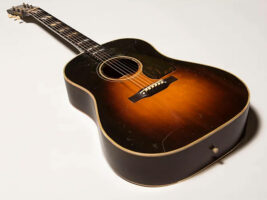 1943 Gibson Southern Jumbo dreadnought acoustic from WWII listed on Reverb
A rare 1943 Gibson Southern Jumbo dreadnought acoustic guitar has been listed on Reverb. It was one of only a few first-rate guitar models made in the Gibson factory during World War II.
READ MORE: Kirk Hammett's 1960 "Sunny" Les Paul Standard gets added to Gibson's Certified Vintage Collection
This historical find landed on the site just shy of the 79th anniversary of D-Day (6 June), and it was made by female luthiers who utilised limited materials and often whatever was on hand at Gibson's Kalamazoo plant. Most raw materials were rationed at this time, and government contracts for electronic equipment were accepted as the production rate of instruments fell drastically.
"The ladies were very conscientious, with fine dexterity and motor skills," explains the seller. "This, combined with an income opportunity in the midst of a unified homeland preservation consciousness made for producing the finest, most lovingly crafted instruments in the history of the company."
The guitar has only ever had one owner, and the seller explains they brought the guitar on road with their polka band, and from 1975 onward, it was "stored under a bed in a climate-controlled New England home".
Credit: Reverb.com
Specs include a mahogany back and sides, a spruce top, three-piece maple neck, and a Brazilian rosewood fingerboard and bridge. This particular "banner logo" model comes with its original case, though its neck, bridge, and frets were recently reset and restored.
The listing is described as in "very good" condition, and the seller writes that "The scuffs, scratches, and dings as appear in the photos are characteristic of 30 years of lively performing, the other 50 years of its life are simply natural ageing".
It has a mighty price tag of £15,584.32 at the time of writing (not including shipping costs), and two offers have been made so far. You can view the listing at Reverb.com.
The post 1943 Gibson Southern Jumbo dreadnought acoustic from WWII listed on Reverb appeared first on Guitar.com | All Things Guitar.
Source: www.guitar-bass.net