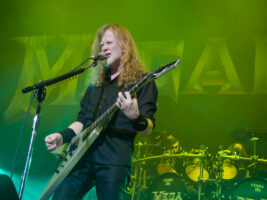 Dave Mustaine says his Gibson and Epiphone signature models "all feel the same"
Dave Mustaine of Megadeth has compared his signature models from Epiphone, Kramer and Gibson, stating that to him, "they all feel the same".
READ MORE: Gibson releases '70s era inspired Deluxe Protector hardshell cases
For years, guitarists have compared Epiphone models with their higher-end Gibson counterparts in a bid to see if investing in a pricier model is truly worth it. Mustaine, at least, believes that all of his signature models with Epiphone, Gibson and Kramer are of a pretty similar quality.
In an interview with Jeremy White on YouTube (via Ultimate Guitar), Mustaine discusses his Gibson guitars, and their more affordable versions from the company's partner brands.
"The deal of me being an endorser for Gibson alone was fantastic," he begins. "But to be an ambassador for the company, which is a whole 'nother level, and to represent not only Gibson but Epiphone and Kramer, to have the classic shape with the round legs on the bottom and then to have the modern shape with the pointed legs on the bottom…
"It's the best of both worlds with the shapes and all three have my hand measurements for the neck. So it's exactly the same, every guitar," he says. "So you pick up a Gibson and you play it and you go 'Damn, this is a mighty guitar.' And then you pick up a Kramer and you're thinking, 'It sounds exactly the same.'"
Reflecting on the much higher pricing of a Gibson model, Mustaine added, "Of course, there is history. Gibson, this higher value instrument to some people, thus the price point. And Kramer is a guitar that is about $1,600-1,700. Whereas the Gibsons are a little bit more. Epiphone is right in the middle there.
"And like I said, they all feel the same. So they're all using my guitar pickups too, the [Seymour Duncan] Dave Mustaine Thrash Factors are the LiveWires, depending on how you want your guitar configured, if you want an active or passive guitar pickup. And with Gibson, we started off with passives. And it was just a love affair from the very beginning."
Watch the interview below:
Elsewhere in the interview, Mustaine speaks at length about his views on whammy bar usage, stating: "My personal belief is that whatever you do on the guitar with the whammy bar you should be able to emulate with your fingers."
He adds, naming two guitarists he feels use the whammy bar correctly: "Somebody that, for example, who was a master with the whammy bar – who we recently lost – was Jeff Beck.
"Jeff was the guy that I liked to listen to his technique with the whammy bar more so than anyone else. Most other people – besides David Gilmour – do not really know how to use a trem bar."
The post Dave Mustaine says his Gibson and Epiphone signature models "all feel the same" appeared first on Guitar.com | All Things Guitar.
Source: www.guitar-bass.net