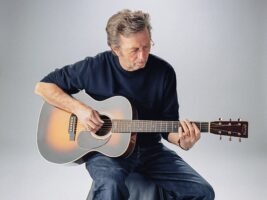 A history of Eric Clapton's Martin guitars
Produced in association with Martin Guitar
Eric Clapton wasn't quite Martin's first signature artist (that distinction belongs to Gene Autry in 1994, or if we're really splitting hairs Madame de Goni in the 1840s) but he is unquestionably the brand's most important one – because Eric Clapton's signature Martin guitars didn't just change how Martin approached signature artists, it changed how the entire acoustic guitar world did, forever.
Because let's not forget, even in the aftermath of Clapton's career-defining Unplugged performance in 1992, some people inside Martin were sceptical that a signature model based on the guitars he played that night would sell out the original 461-guitar run… let alone that it would spawn multiple successors and become one of the mainstays of Martin's range for three decades.
Image: Martin Guitar
But the power of Eric Clapton's music and the craftsmanship of Martin guitars has endured and thrived over the decades to become one of the most interesting and varied signature partnerships in all of guitar.
Let's take a look at some of the most interesting and important models from Clapton's long history with Martin Guitar.
 
Where it all began 
Image: Martin Guitar
Drawing inspiration from the two guitars Clapton played for his famous Unplugged performance, the 000-42 EC was produced in a limited run of just 461 guitars – they sold out almost instantly, and laid the bedrock for Martin's longest and most successful signature partnership.
 
The Permanent fixture
Image: Martin Guitar
With the limited edition Clapton model a huge hit, Martin decided to create a second model – this time a non-limited edition guitar that would tone down the "fanciness" of the 000-42, and create, as Clapton joked, "a poor man's Clapton model". The 000-28EC would prove an even bigger hit than its predecessor, becoming a permanent part of the line-up for the next three decades.
 
Refining a classic 
Image: Martin Guitar
Over the course of the following decades, Martin refined and enhanced the Eric Clapton models in various limited edition forms, including sunburst finishes, Brazilian rosewood back and sides guitars in 2000, a Madagascan rosewood model in 2013 and even a stunning 000-42EC-Z with ziricote back and sides.
 
Going Italian 
Image: Martin Guitar
Perhaps the most distinctive evolution of the Eric Clapton Martins began in 2003 when Clapton and his friend, Hiroshi Fujiwara, teamed up with the maker to create the 000-ECHF Bellezza Nera ("beautiful black" in Italian) in 2004 – an all-black twist on the Clapton model limited to just 476 pieces. This was soon followed up by its sibling the all-white (with maple back and sides) Bianca version in 2006.
 
In The Navy
Image: Martin Guitar
The partnership between Clapton, Martin and Fujiwara has been a fruitful one, and the trio came together again in 2014 to create an OM model that borrowed from the Bellezza Nera heritage but with a twist. The OM-ECHF Navy Blues differed from other Clapton models by having a longer 25.4-inch scale length, and a striking dark blue finish.
 
At The Crossroads
Image: Martin Guitar
The Crossroads Foundation has been a huge part of Clapton's life over the last three decades, and the guitarist has frequently partnered with Martin to produce limited edition instruments to raise money for the foundation. 2023 is no different, with the guitarist partnering with Guitar Center to produce a series of limited edition Crossroads Martins, including this stunning D-28.
Shop the 2023 Crossroads collection at Guitar Center
The impact of Eric Clapton's signature models on the guitar world cannot be understated – many, including Martin's long-time historian Dick Boak, credit these guitars with reviving the popularity of the 000 body style and bringing it back to the fore, and there's little doubt that no artist has sold more guitars for Martin than Eric over the last 28 years. It's a relationship built on trust and understanding, and a shared passion for the finest musical instruments in the world.
The post A history of Eric Clapton's Martin guitars appeared first on Guitar.com | All Things Guitar.
Source: www.guitar-bass.net